7/3 – Steel Hook Prostheses + more in Boston!
11 June 2010
xdementia
No Comment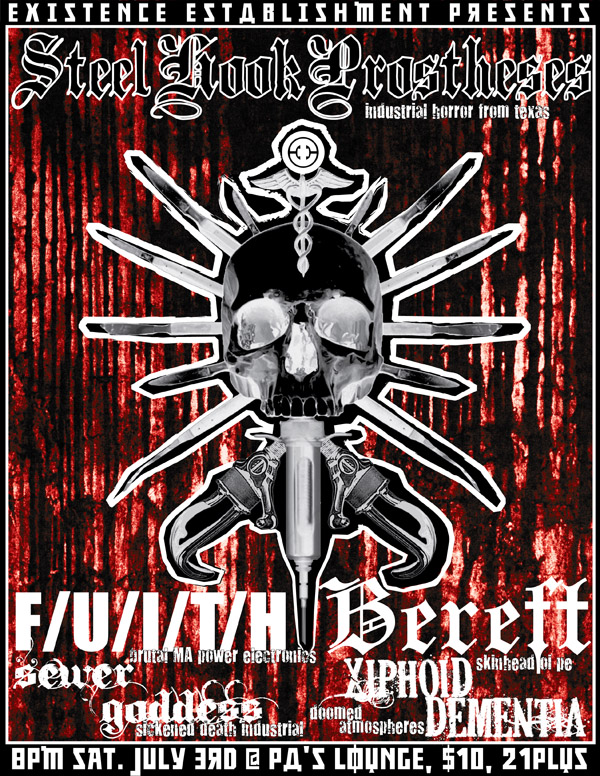 Videos


STEEL HOOK PROSTHESES (PART 1)
——————————————————————————————————————————————————————————-
STEEL HOOK PROSTHESES (PART 2)
——————————————————————————————————————————————————————————-
F/U/I/T/H
——————————————————————————————————————————————————————————-
BEREFT
——————————————————————————————————————————————————————————-
SEWER GODDESS
The Artists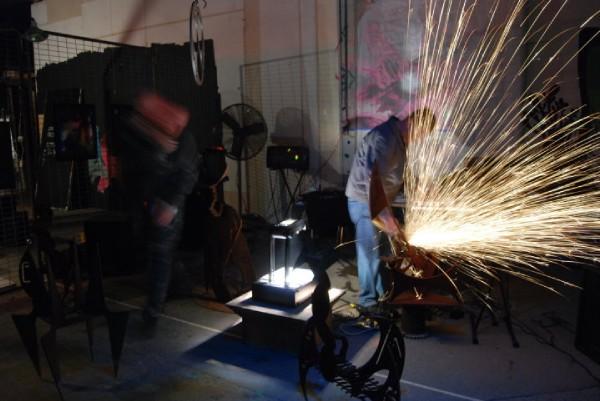 Steel Hook Prostheses (Dallas, Texas)
Steel Hook Prostheses is J.Stillings and L.Kerr. Formed in 1999, this Texas heavy electronics duo has become purveyors of sick and twisted nightmarish soundscapes.
J.Stillings and L.Kerr have known each other and have been best friends since 1988, they've shared a passion for music since day one. Being in the outskirts of South Dallas, their access to any music (mainstream or "underground") was at the local record stores. Exposure was limited, but they managed to enjoy it and found some classics. They then started taking cassettes and splicing different parts from different songs to make other songs. In 1991, they formed a hardcore/punk band called Steel Toe, which broke up after a couple of shows and a lost demo tape. They parted ways with J. leaving to serve in the military.
While in the military, J. continued in the search of the perfect sound by playing in several local deathmetal/industrial bands, supporting such bands as Mortician, Dying Fetus, Pyrexia, and many others. When L. Kerr returned in 1999, there was an opening the current band he was in and they resumed the journey once again. They then started playing around with different drum machines and keyboards and started creating a sound that would be their own. When first starting in electronic music, they played with such acts as Savak, Zymosiz, Asche, Converter, and Morgenstern. The repetitive beats and rukkus didn't last too long and the SHP sound was then born in 1999. One of the first shows performing as SHP they opened for Ah-Cama Sotz and Winterkalte.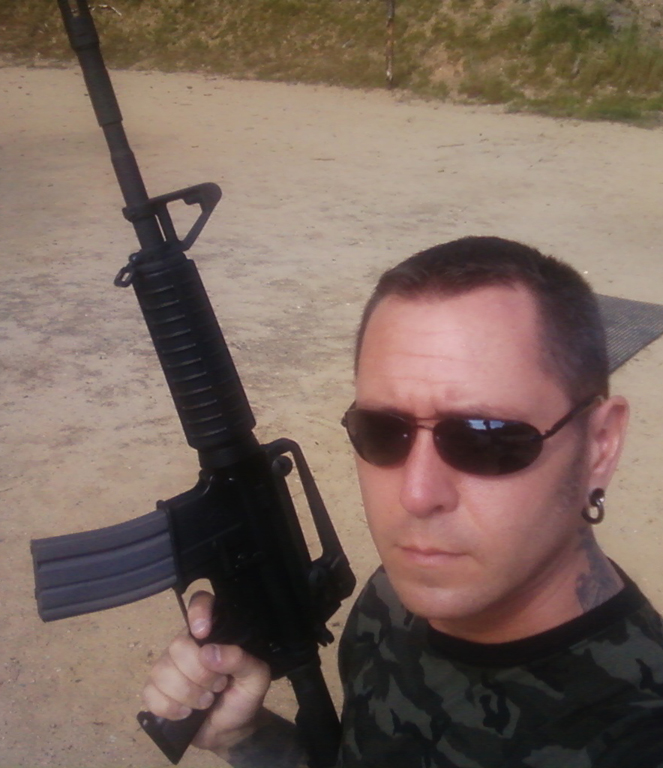 Fuck You In The Head (Provincetown, MA)
F/U/I/T/H is the closest you will get to having a final Fire In The Head live performance. Fire In The Head was formed in early 2004 by Michael Page. After performing live several times as a guest member of a friend's power electronics unit Michael was inspired to begin work on his own harsh electronic project combining aspects of noise, death industrial, drone, dark ambient and power electronics yet setting no genre boundries that might limit the project's development. F/I/T/H was conceived as a cathartic outlet to explore and ratify the delusions and social perversions resultant of psychosis and the darker side of man's conflicted dual nature. Fire In The Head is the sound of everything and nothing, the unbearable cacophony that exists in one's head when there is no external noise, the flame that burns the borders between obsession, compulsion, lust and need.
Live F/I/T/H is currently Michael Page and Benny Nelson. Past live performances have included assistance/guest appearances by W.T. Nelson (Geronimo, Unicorn, Bastard Noise), Daniel (Broken Diode), Kohei (Guilty Connector, Lethal Firetrap), Kelly Churko (Hospital, LethalFiretrap), Katsura Mouri (BusRatch. Doog), Michi (Culpis, Doog), Kristian (Survival Unit), Peter (Sektion B) and Marco Deplano (Wertham).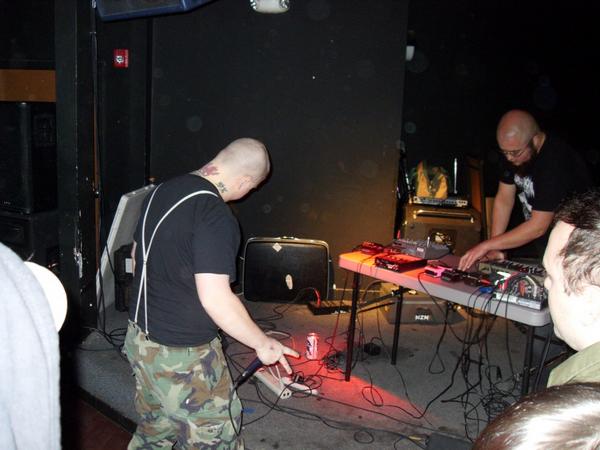 Bereft (Salem, MA)
"Effortlessly blending Death Industrial atmospheres with Power Electronics aggression, they seem to be deft at creating something outside the status quo for underground noise. " – J., plaguehaus.com
Initially a solo project of Peter Lee (Force of Nature Productions), Bereft created a dense, rhythmic blend of death industrial and power electronics. In 2008, Andrew Grant (The Vomit Arsonist, Danvers State Recordings) joined Lee as a full time addition to the act. Now a two piece, Bereft is stronger than ever, spewing forth more structured and focused sounds than ever before, with Grant and Lee collaborating on the music, and Lee writing the lyrics. Lyrically, the band has a mission, a statement: but a live performance must be witnessed to truly understand the intent of the act.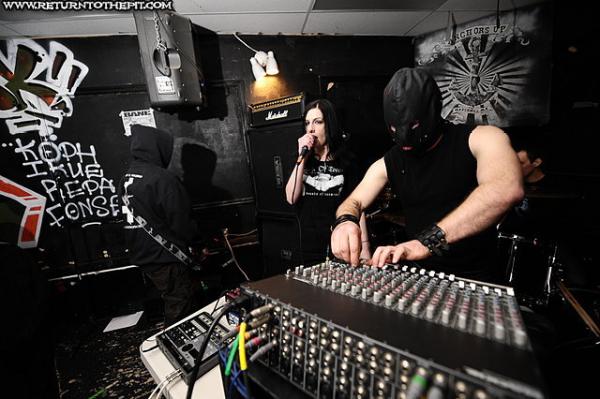 Sewer Goddess (Boston, MA)
Sewer Goddess began in 2005 as an outlet for aural abuse through the disheartened remnants of mental solidity. Their base of operation(s) is located in and around Boston, Massachusetts. The project currently consists of various members alongside Kristin Mcarthur, most notably Jay B. of Witch Tomb and Mark F. of PanzerBastard.
Sewer Goddess is prepared to deliver a psychologically debasing set executed in three movements from a collective brought together by an obsession with your demise. Not for the light of heart.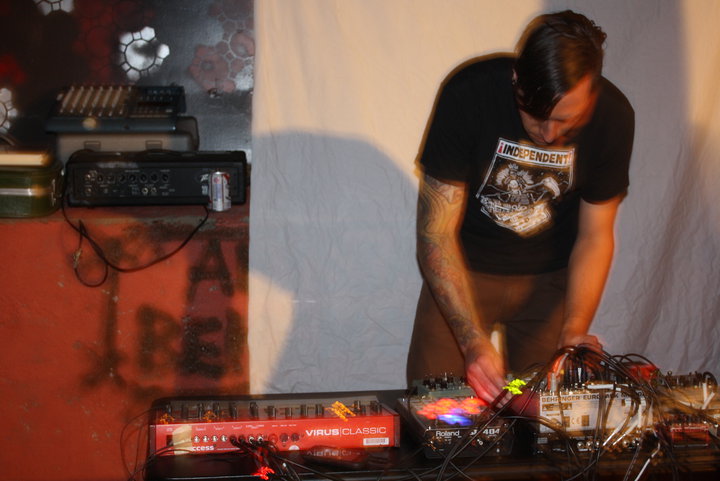 Xiphoid Dementia (Boston, MA)
Xiphoid Dementia is the electronic music project of Egan Budd. Recordings began in 1999 and despite infrequent collaborations Xiphoid Dementia has remained a solo project. Xiphoid Dementia is the exploration of my inner personal love, hate, fears, longings, doubts, hopes, dreams, ideas, theories, and philosophies many of which can only be expressed through the abstract form of noise.
Xiphoid Dementia will be performing 3 movements combing harsh noise, power electronics, dark ambient and industrial atmospheres dealing with concepts ranging from abortion, relationships, time, and the nature of belief and legal ideas of insanity. Source material includes orchestral instrumentation, inner mechanical workings of clocks, and live cinder block manipulation.