IRM – The Cult of The Young Men CD
12 July 2010
xdementia
One Comment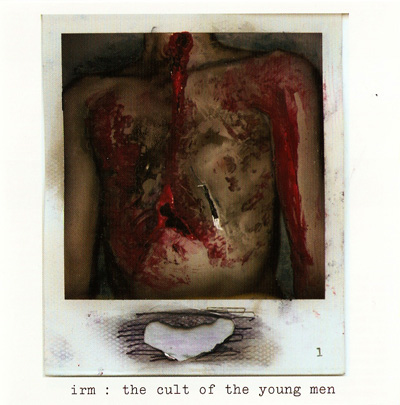 IRM – The Cult of The Young Men CD
IRM's The Cult of The Young Men is a deceptive work. On the surface the tracks seem quite simple, a repeating rhythm, be it a jarring piano key, or the echoing hum of a feedback pulse. Perhaps it might just be an organ-like drone joined by Bladh's unmistakable barking delayed vocal attack and some rip-roaring scraping and torturing of junk – see the opener "The Cult of the Young Man" – but somehow IRM are able to take these basic elements and create an incredibly detailed soundscape.
The focus on The Cult of The Young Men isn't in the song structure though, this is industrial music after all. Wash, rinse, repeat, repeat, repeat. That is the core of industrial music and it is here that this formula's strengths become more than apparent. The focus of The Cult of The Young Men is really on the sounds and their surrounding atmospheres. When that first ripping tear of whatever poor object was being split apart cuts in during The Cult of the Young Man it's like a hit of acid ripping apart your vision of reality, disorienting yet cathartic, orgasmic and uncontrollable.
Drawing us in further with "Here are the Young Men" IRM begins to increase the depth and layering of the tracks. By the time "Limelight" rolls in the listener is immersed in an absolute barren industrial wasteland with a sound like a terrible wrecking machine that will stop at nothing, the airy hum reminding you that the nothing on earth is safe from it's efficient work of destruction. It's intimate and mechanical, esoteric and unrelenting.
The sound design is heightened in the "Rent Boy" with menacing feedback hums, and shaky metallic textures gracing the outskirts of the unhinged broken trash that is still being driven by some unknown force. Finally the first metallic thud of "Sebastion" – the closing track – rings out and it's like every goddamn human mistake ever made has come down to that one moment. But, there is more and when the clanging continues – with it's metronome of pure death knells – you know it can only be the bitter end.
IRM has created a truly memorable and profound opus of power electronics and death industrial sounds that will surely go down in the annals of history. Easily one of the best albums of the decade, this is a must have for any fan of industrial music and an absolute classic.
| | |
| --- | --- |
| Composition: | |
| Sounds: | |
| Production Quality: | |
| Concept: | |
| Packaging: | |
| Overall Rating: | |