Reviver – Crawlers Spit Black C30
14 July 2010
xdementia
No Comment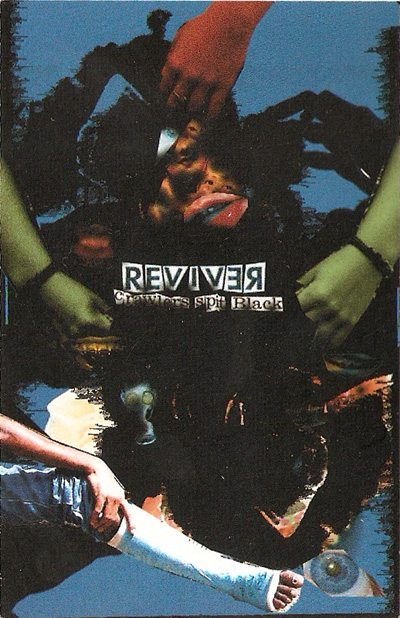 Reviver – Crawlers Spit Black C30
This is what I've been waiting for all along from Reviver. I've been following his work for a few years now and am finally getting around to spinning this tape and goddamn it delivers beyond expectations! Probably the most telling information here is the only credit going to Chris Donofrio the soul member of this death drone act as playing the "graphic eqs". This isn't much more than that, absolutely overblown synth drones pummeling me with their pure intensity and thick as mollasses sound.
Side A slams into my gut with the heaviest drone I have ever heard. It dips into overdrive so much so that it almost stops, but the sound is so incredibly full and intense that it overwhelmingly suffocates. There is no room to breath, it's like watching a bulldozer pulverize your house with your whole family inside, no human at the wheel. Fuck, I think this might actually be the lost soundtrack to Maximum Overdrive! Just when you thought things couldn't possibly get anymore overbearing the second tracks slams into you and you realize that the dozer is now coming after you. Finally it catches you on the third track and you get pummelled with those tractors just rolling over your obliterated body, and somehow your mind is still conscious enough to feel only the pain.
Side B kicks off with a longer track of yet more basic droning synths. This is probably my least favorite track on here because it seems a little long for what it is. Luckily the following track kicks in with a rotating synth throb that very quickly erupts into a ball of white hot fury. So crunchy and analog sounding the level of sickness that these sounds reach are heightened by the strange rhythmic rattles that get going here.
The sound reminds me a lot of one of my favorite albums by Klinikal Skum. A hi-fi recording of lo-fi instruments being driven to short circuiting. This is total depravity, very unmusical in the best of ways and a perfect display of the power of sound. Brutal intensity!
| | |
| --- | --- |
| Composition: | |
| Sounds: | |
| Production Quality: | |
| Concept: | |
| Packaging: | |
| Overall Rating: | |