Sewer Goddess – Verdigris 7"
9 August 2010
xdementia
No Comment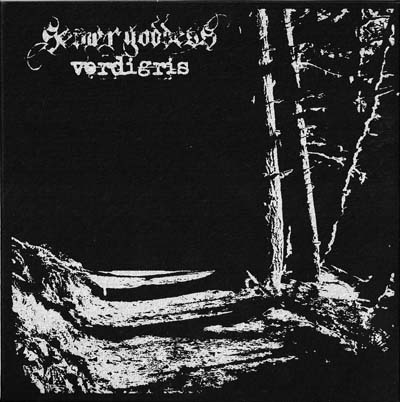 Sewer Goddess – Verdigris 7″
Right off the bat this release delivers. I believe what I have here is the "deluxe edition" with an extremely heavy gatefold jacket with silver silkscreen and two inserts. All the artwork here is predictably lo-fi and high contrast but the vinyl is thick and the release obviously has a classy streamlined vision to it which can't be ignored.
It appears the release is based on some murders that occurred in Oregon, and I'm guessing each track is named for one of the victims. Side A features "Kathleen Marie Bechtel" and features some absolutely dark soulless sounds here. The slowest echoing drums, reverting feedback (or synth?) textures, and incredibly mangled vocals just cut right through to send shivers down my spine. This is some bleak, blackened shit.
"Vicki Louise Fawcett" is the second track and sounds like it uses similar sets of sounds but at the same time the composition comes off as being quite different which works really well to compliment the other track. This time the vocals are a bit more whispery and it sounds like a lot of the percussion consists of cymbals in reverse but they're thrown under a ton of reverb and some distortion to add a great industrial flavor to it.
Both of these tracks are top-notch. The production is great while calling to mind the word "gritty" on so many levels, it still sounds clear and concise. The sounds used are unique and creative and although the tracks are repetitive – like any good industrial music should be – they still manage to evolve in the little amount of time they have. Verdigris is truly a chilling release and I feel nervous just listening to this, constantly looking over my shoulder and keeping my machete in reach at all times. This is awesome work and is easily the best material I've heard from Sewer Goddess yet.
| | |
| --- | --- |
| Composition: | |
| Sounds: | |
| Production Quality: | |
| Concept: | |
| Packaging: | |
| Overall Rating: | |