Poison Tongue – Lick You Sweety C34
30 September 2010
xdementia
No Comment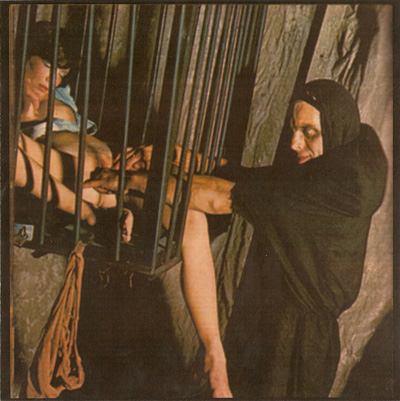 Poison Tongue – Lick You Sweety C34
I don't even know what to do with myself when I hear something this mind blowing, and I promise, there is no sarcasm here. I really, really love this cassette in so many ways. This is my first exposure to Poison Tongue which is a side project from one half of the noise group Pink Sexdeath. First off, the packaging is simple but also kind of awkward. Seven inch size artwork, which is cool but then the cassette is just thrown in the bag. Design looks great though and fits well with the sounds.
These tracks are like Mörder Machine for the 21st century. The compositional strategies aren't too much different, repetitive low pounding, mangled and moaning vocals, synthesizer bass. There is a twisted ambience that also pervades each track that brings Lick You Sweety a step above most Mörder Machine knock-offs. The textures are metallic and shiny, tons of delay everywhere but tactfully employed and it never sounds generic.
Some of the effects here may sound a little digital but they have this saturation that works perfectly and the full range of frequency spectra is used effectively. The pacing is perfect and the tracks never feel too long or short. The general atmosphere reflects the cover – sickened death industrial and horror movie influence even as stated on the back cover: "Mixing my fave Giallo/Fulci soundtracks with ambient black metal, like Von, Havehej, Beherit mixed with Atrax Morgue, SHP, etc. etc. etc.". This kind of undisclosed candidness is one that I really enjoy, and it strangely fits well with such an esoteric release.
I have to state once again, this release is just phenomenal. The production, the sound, the atmosphere, and add to these already solid aspects a hint of originality and pure depravity and this forms a perfect convergence. A must have for fans of Atrax Morgue, horror soundtracks, Mörder Machine, Brighter Death Now, or any of the classic death industrial giants. Get it quick cause this puppy is limited to a mere 50 copies!
| | |
| --- | --- |
| Composition: | |
| Sounds: | |
| Production Quality: | |
| Concept: | |
| Packaging: | |
| Overall Rating: | |