The Haters – In The Shade of Fire CD
6 October 2010
xdementia
No Comment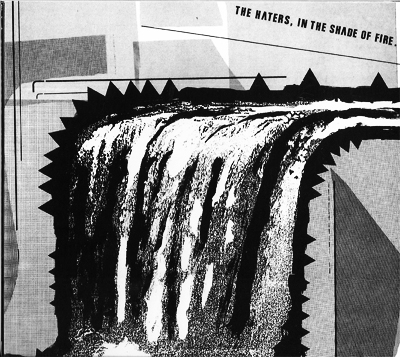 The Haters – In The Shade of Fire CD
The Haters are one of the earliest and most infamous American noise groups that exist. In The Shade of Fire was originally released in 1986 as an LP on Silent Records. This is a piece of history here kids, revisionist history, maybe, but history nonetheless. The short manifesto written on the back of this slick-looking digipak says it all in perfect simplicity: "… I am deeply moved every time I hear a car crash…Noise is pleasing…".
In The Shade of Fire features the sounds of things falling apart. Glass, explosions, accidents, fire, scratching, quickly destroying things, slowly destroying things, no exceptions everything must go, chaos is all around us. The recording of the CD is culled and remastered from the original LP so it's lo-fi as hell keeping the original aesthetic. This is not for the faint of heart. The lo-fi element really adds to the aesthetic here because this is a historical release, a relic, but the effect that it has had on today's noise cannot be denied.
I personally enjoy the more textured tracks here; Glsam, Thuch, Bebas, and Fire 5 are all great walls of sound to simply sit back and be immersed in. If you can let this record surround and completely overtake you, you will be able to fully enjoy the potential within these tracks. The only track I can't totally get down with is Taisic because it just doesn't have the depth of the other longer and more intense tracks. It matches up more closely to the other shorter tracks like Iny 1 & 2 but is 10 times the length and gets quite tiring after about a minute or so.
Definitely a must-have release for any noise fanatic's collection. This is a relic and has proven to stand the test of time in all it's uncompromising glory. Still both as relevant and irrelevant as when it was originally released and therein lies it's strength.
| | |
| --- | --- |
| Composition: | |
| Sounds: | |
| Production Quality: | |
| Concept: | |
| Packaging: | |
| Overall Rating: | |