EE13: FIRE IN THE HEAD/BEREFT – MA/PE/FU Vol. 1 LP
1 January 2011
xdementia
No Comment
*purchase this from the shop*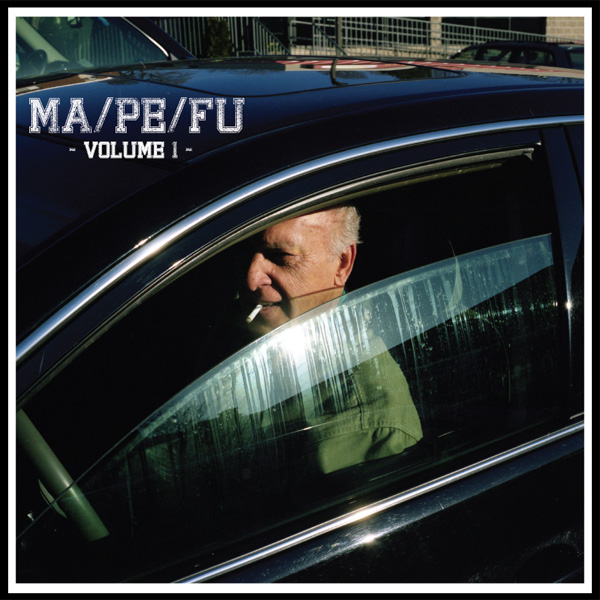 Massachusetts power electronics heavyweights go head-to-head in the first Volume of the MA/PE/FU series. Fire in the Head is Michael Page the prolific artist also behind Sky Burial and Irukandji who hails from Cape Cod. On Side A FITH offers a fast paced whirlwind of unrelenting noise complemented by ambient interludes, frantic samples, and rhythmic mayhem.
Side B features the forsaken death industrial tinged power electronics of Salem, MA based Bereft. The brothers in arms behind this 2 man operation being Peter Lee of the long-running Force of Nature label, and Andy Grant who solos as The Vomit Arsonist and runs the up-and-coming label Danvers State Recordings. Bereft present a screeching feedback assault layered over heavy industrial rhythms to form 2 solid tracks of razor-sharp dissent. The line has been drawn.
Existence Establishment's first vinyl release will not be the last. MA/PE/FU Vol. 1 is the first of a 3 part series that will present several mainstay artists, and some new artists of Massachusetts power electronics! Each LP will feature 2 artists, one on each side. All of the series feature photography of Massachusetts by Chris Latina who captures the old school hardcore aesthetic that permeates the Boston area with a contemporary eye.
Side A – Fire In The Head
The Great Deceiver
In His Garden
My Right, You're Wrong
Remove the Gauze [Excerpt]
Sodom Eyes
Side B – Bereft
You Don't Represent Me
I Will Not Assimilate [Excerpt]
First 50 copies come with special limited edition Noisevision DVD.
Featuring artwork of Massachusetts by photographer Chris Latina.
1 of 3 designed large sized posters from album artwork with each item.
Full color insert.
Pro-pressed 12″ LP with full color packaging.
Each copy individually numbered.
Receive a discount if purchased with the limited edition MA/PE/FU t-shirt here.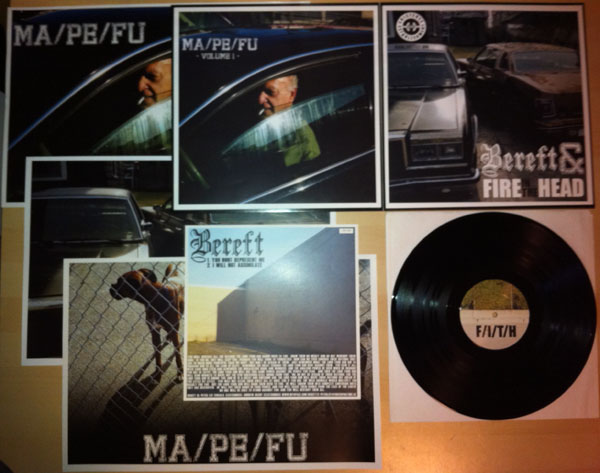 REVIEWS
From Heathen Harvest webzine:
Concrete. A perfect metaphor for the hardcore spirit that infects both the past and the present state of the Massachusetts underground. It is the brutal, severed face of American power electronics. It greets flesh with all the subtlety of a nuclear blast wave, and its only voice is the crushing crumble under the rumble of an Earthquake or the gut-wrenching clash of jagged metal against itself, the white noise of the heavy rain that washes away the blood and memory, and the death rattle in between. Yeah… concrete. And there is plenty of it in the vast urban sprawl that makes up the inspiration behind this first release in a three-part series from Existence Establishment. First up are two monolithic figures in this asphalt wonderland — one deceased, one very much alive — in Michael Page's Fire in the Head (which was laid to rest with this release) and Peter Lee (Force of Nature) / Andy Grant (The Vomit Arsonist, Danvers State Recordings)'s Bereft. Both projects need little-to-no introduction beyond that, and both are here representing their roots, so common sense already implies that this is going to be a powerful offering from both sides of the record.
F/I/T/H's side of the split begins with that noted Earthquake rumble as it quickly evolves into a roaring fervor with "The Great Deceiver" and "In his Garden", reducing whatever order remained into shambled chaos. Complex layers of harsh industrial electronics, drone, and undoubtedly pernicious if not outright virulent vocals swiftly pile up throughout the side, creating an aural mirror to the complexity of subject matter that they encompass — from his personal perception of the Abrahamic evils of the opening and closing tracks to one of Page's most beloved subjects in firearms in the cleverly titled "My Right, you're Wrong" (which includes a brilliant placement of the infamous Rifle-monogamy sample by R. Lee Ermey from the film "Full Metal Jacket".) Page's trademark crushing vocals dominate the final moments of "Sodom Eyes", bringing this side — and the project's existence — to an eventful and expected outwardly emotional conclusion.
Bereft's side is more drawn back in terms of complexity, but the first track takes up a percussive direction that is bombastic to the point of developing death industrial on an incredibly destructive doom-ridden, martial scale — very much 'old school' with production quality that is surprisingly immersive for its bare-bones approach. The heavy electronics are basic and minimalist, and with that comes vocals that are stronger because of it — vocals that are confident in their emphatic, surprisingly audible delivery, and which tackle a variety of subjects from vehement individualism to an honest and intelligent ancestral pride. Some people may be quick to judge the project based on some controversial lyrics within "I will not Assimilate", but this track is the artist's resistant vocalisation and refusal to be forced into becoming part of the same guilt-trodden, overly dramatic liberal mold that contemporary society marches us toward. This is a far cry from the same finger-pointing, ignorant accusational racist garbage spewed by projects like Intolitarian — rather, it's a celebration of the self that shakes off the brittle frustrations of openly having any form of Caucasian racial pride in America.
Overall, this is a fiercely inspired and extremely impressive split, and every bit of what I've come to expect from Fire in the Head, as well as what I'll come to expect in the future from one of my new favorite industrialized projects in Bereft. I don't say it publicly very often (at least not within my reviews), but if you don't already own this, you should.
From Special Interests: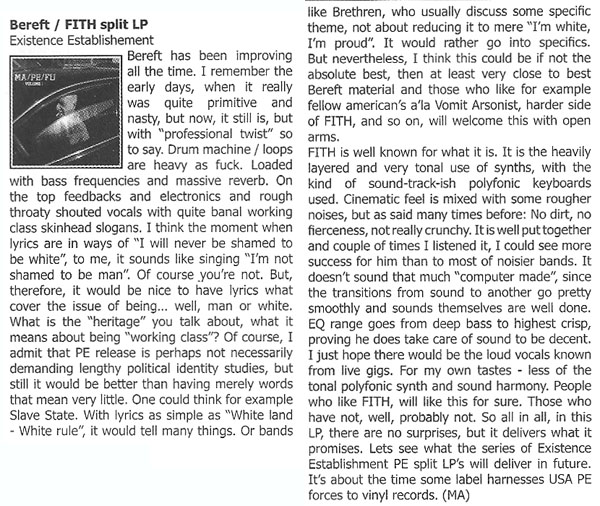 From Rock! Shock! Pop!:
About four hundred years ago, a bunch of losers left England because their religion wasn't strict enough. Instead of doing a massive group castration and subsequent suicide (why live without the batteries to your funmobile?), they sailed across the Atlantic Ocean. Unfortunately, they settled in Massachusetts, and this place still holds a lot of the same ideals that existed many years ago. However, not everyone follows this tacit puritanism and quite a few seek something outside the norm. Whether it's gay sex on the Cape or OD'ing in Weymouth, Massachusetts is a hotbed of sub rosa activity. Luckily for many (umm… some?), there's a thriving underground experimental music community.
Ok, ok, experimental is a shitty blanket term. I could be talking about Stockhausen, Sun Ra, Merzbow, John Cage, or even Agrippa! So, let's just look at the POWER ELECTRONICS, ok? Mass has a great scene, and Existence Establishment wants to document it for the rest of the world. EE is run by Egan Budd (Xiphoid Dementia…check it out!) and has put out a few cd and cd-r releases. MA/PE/FU is the first vinyl release by Existence Establishment. This slab here is volume one of three. Each volume will capture two prominent Boston PE artists…one act a side, dildies. I'd tell you what the other volumes will be, but that'd make it less fun for you (and me)…(I only know the next one…the 3rd's a mystery).
LET'S GET ON WITH IT!!!
Fire In The Head is the power electronics project of ex NYC punk Michael Page. PE is a pretty expansive genre, and F/I/T/H generally works in the harsher end. This split, though, tends to rest in a darker, industrial realm before bringing in the harshness. All the normal industrial sounds are here (boiler room drums, clanging metal pipes, Full Metal Jacket samples, etc), but their arrangement is less than typical. What starts out sounding like normal Einsturzende Neubauten factory maintenance slowly turns into a foundry run amok. Low, growling synths and noise grow oppressive and all consuming. This workplace disaster doesn't last for too long, unfortunately, but the buzzing electronics that follow help keep your mind off of your fallen co-workers and lava filled lunchbox. We're treated to slowly oscillating buzzy rumbles with scratchy, distorted vocals on top. I don't know what he's singing about. Maybe about the turkey sandwich that was in the lunchbox. RIP, lunch. The next section has the Full Metal Jacket samples. R. Lee Ermey quotes get looped ("You will be faithful") with vocals on top ("My right, your wrong"). Quick section, but pretty good. The electronics are looped as well, but what can you do. The album hits a low, slow, droning bit before hitting some rough, static filled electronics. Let that rock for a minute or so and then the album side ends. All in all, very enjoyable. It hits a few different styles, which I normally wouldn't like. However, they work together pretty seemlessly, and I'm down with that.
This is the last release from F/I/T/H, and is one fifteen minute track (technically five tracks, but they kinda run together and I'm too lazy to go through and cut up my mp3).
Bereft is a two piece consisting of Peter (Force of Nature label) and Andy (The Vomit Arsonist). Peter, like Mike above, has a background in hardcore. I once read something describing power electronics as something "punk kids" did once they found their older brothers' Whitehouse albums. Two punks, two PE bands…NO WHITEHOUSE (I've got nothing against Whitehouse, though). Bereft's style of power electronics kinda reminds me of the Napalm Death song "Evolved As One;" sparse, but powerful. Like many power electronics acts, Bereft have very political lyrics. What kind of hardcore guy would ditch his beliefs just because he switched genres? Bereft's side is two tracks, both about seven minutes. The first, "You Don't Represent Me" is comprised of low, distorted synthy drones, booming boiler room drums, and angry vocals. Yeah, all well and good, but then shrieky feedback is added to the mix. Ah, now we're here. It's uncomfortable and angry…everything you want. The second track, "I Will Not Assimilate" is more of the same, maybe with a little more focus on the synth drone and pedal work. These tracks would make for a great live PE set.
The first 50 LPs come with a bonus dvd. This dvd has the F/I/T/H and Bereft performances from the 2009 Northeast Noise and Power Electronics Festival and their show at PA's Lounge on 7/03/10 (F/I/T/H's last show). I only flipped through the disc, but maybe you'll see me as I was at both. Decent chance on the Bereft PA's Lounge show. I'm the handsome guy that's there with his handsome good looks.

All in all, this is a solid power electronics release from two great acts. The packaging is superb as well. I can't wait until volume 2.
From Animal Psi:
Fire in the Head and Bereft are featured as the first two artists on Existence Establishment's 'MA/PE/FU' series. "MA" is for Massachusetts, where the artists are from; "PE" is for power electronics, the medium in which they work; and "FU" is presumably some sort of salutation to the listener, perhaps playful on paper but entirely belligerent when taken in with the whole package. The heavy disc comes fortified by symbols which make MA PE so very resonant with its theme: carcinogenic white rage in the cover model, weather-eaten sedans, shit stucco strip malls, and cold-lit boxer dogs guarding this Eden of impotence. The title is presented in militant hardcore "varsity" font, and with the exception of the Euro-styled label crest, the entire disc is a pitch-perfect representation from the home of Twodeadsluts Onegoodfuck. Both artists play power electronics in the vein of of Bloodyminded, Bastard Noise, and early Prurient, with Bereft representing more the first, FITH the second, and both inseparably familiar to the last.
The duo of Bereft (Peter Lee and Andrew Grant) play two tracks of trudging soapbox noise. Reaching into themes of Cioranian pessimism with an overdrawn fascist delivery, the flatness of Lee's vocals with their excessive "I" statements make them both the consummate "radio voice" and a complicated comedy next to the deep churn and beautiful machinery of the rhythmic industrialism. The white pride message of the lyrics is so unmistakable as to be either over-provocative or over-emphatic – a mistake either way – that the very selection of such a pathetic topic ensnares the wrong cast of opponents, whether Bereft are seeking to alienate the minority who venture into their soundscape or smother the genre with buffoonery.
Conversely, the extinct Fire in the Head (Michael Page of Sky Burial and Irukandji) offers five tracks with tastefully-veiled ideology in turns of phrase like "My Right, You're Wrong" and "Sodom Eyes", as well as a Death in June Christo-poetics with tracks called "The Great Deceiver" and "In His Garden". Less rhythmic and less feeling than his album-mates, Page expels as vaporous noise out of thin, tin feedback and raspy vocals, coupled with masculine samples of soldiering and general assertiveness. Though backgrounding a sample like Lee Ermey's rifle speech from 'Full Metal Jacket', the surrounding presentation effectively backgrounds this moment with a polysemy of queerness, resent, and malice – the songification of Cobra Commander deconstructed by spores. By contrast side FITH is a more "artful" and delicate listen, but the two sides together demonstrate the possible variety of this seemingly homogeneous subgenre which Existence is looking to demonstrate. 300 copies with full-color, paste-on covers, full-color insert, and a double-sized poster. Photos by Chris Latina.
From Vital Weekly Newsletter #780:
Well I'm disappointed, maybe I just don't get "power electronics" or industrial, here we have two tracks of rumble through a reverb with someone chanting in that very 'put on' menacing way something or other, sounds important to him, Bereft, but in all the turgidness it loses me, FITH is more industrial PE rumble, this is a massive production of inserts picturing the familiar urban wastelands and old Cadillacs of the United States, not quite the trailer trash, but now oh so familiar like the groaning PE sludge quite soporific, but I take full responsibility, you see I don't like opera and this is more operatic than soporific.. Perhaps… perhaps. It has something to say, its like Wagner but slowed down or some Russian soviet opera set in a light bulb factory in Minsk. all no doubt significant, important, the urban rusting automobiles a metaphor for humanity. An incisive indictment of capitalism and consumerism, but this whole thing is a massive product in itself, and only volume 1, how many more seals will be bludgeoned to death, how many more dolphins skinned in order to make volume 2? (jliat)