Theologian- The Further I Get From Your Star, The Less Light I Feel on My Face CD
8 April 2011
xdementia
No Comment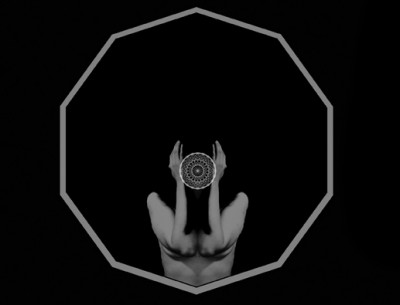 Theologian – The Further I Get From Your Star, The Less Light I Feel on My Face CD
Theologian is the new project of Lee (Leech) Bartow, the singular entity behind the late new school power electronics project Navicon Torture Technologies and the respected noise label Annihilvs Power Electronix. It's definitely an interesting thing when an artist ends such a successful and prolific project only to spawn yet another "dark electronic" project. Since I had never really delved into Theologian's material before this, I took some time to soak in the depth of these sounds.
The first immediately noticeable divergence from NTT's sound is the more drone/ambient influence here. The blasts of noise are few, and the industrial elements almost completely disappeared. This is heavy, dark, contemplative drone certainly reaching for the stars and giving me some kind of otherworldly atmosphere.
Though the tone here is one that is quite somber as well. The subtle, slow melodies in the massive 24 minute opus In Times Of Need, We All Go Against Our Natures starts to sketch out what Theologian intends to communicate to the listener, but it's not until later that we find out what exactly he intends to elicit from us.
Theologian is also more minimalist, taking longer for the tracks to unfold both in the album and within themselves. The Further I Get… grew on my greatly through repeated listens. What I first off thought to be a competent, yet generic and rather dry album has turned into a collection of movements that have layed seige to my psyche, enveloping me in their anesthetic tendrils. Maybe I just had to get over my expectations from Lee's previous NTT project in those initial listens, but there's something in the longer tracks and more spacious, subtle atmospheres that Theologian presents that are just undeniably deep.
The Further I Get… will appeal to NTT fans, although be prepared to deal with some growing pains along the transition to fully enjoying and understanding these sounds. Outside the shadow of NTT I can say that Theologian is putting down some thoroughly intense and heartfelt dark drone music here with subtle nods to power electronics and noise. Expect images of sovereign beings from other planets, black holes eviscerated, and nebula's inverted and then find out all these strange metaphysical phenomenon are occuring within you.
| | |
| --- | --- |
| Composition: | |
| Sounds: | |
| Production Quality: | |
| Concept: | |
| Packaging: | |
| Overall Rating: | |