M Ax Noi Mach Live 2/25/11 Review
4 May 2011
xdementia
No Comment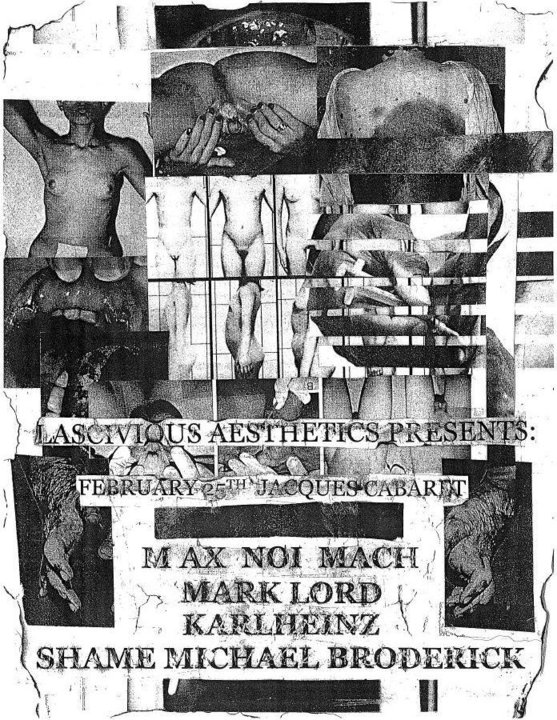 Article by Ian Duncan-Brown, video by Rat Chasinil
Several inches of snow didn't deter the usual reprobates from attending Friday's noise show at the Starlab in Somerville. Shane Broderick set the evening in motion with a seething, taut power electronics set. Surprisingly melodic synth patterns underscored the brutality of Broderick's vocals, and his brief performance featured an element of control and precision sometimes missing from his previous ensemble, Two Dead Sluts. The set created an unsettling level of tension as melody gave way to gusts of harsh noise, and I noticed some audience members bracing themselves and taking cover – shows by Broderick's former group often degenerated into fistfights and unpleasant confrontations. Shane kept his hands to himself, however, and his live performance closely resembled his excellent 2009 CD release under the name Corephallism.
Karlheinz, another local practitioner on the bill, spent much of his set hunched over his mixer in search of suitably bludgeoning frequencies, but he made sure to wade into the crowd and throw his weight around as he bellowed the lyrics to his industrial power electronics anthems, including a paean to the size of his own cock entitled "Packing." Mr. Giesing has consistently shown his ability to replicate his material live; his arrangements incorporate the meat of his catalogue – lyrics and structures – while allowing room for on-the-spot improvisation and spontaneous sonic assaults. Karlheinz has been active on the Boston scene longer than most fans and performers, and my only criticism is that he ought to release records more often.
Mark Lord changed the tone of the night – he played a rhythmic set more akin to minimal techno than noise, although his analog equipment fit the vibe of the evening and tied him to the aesthetic preferences of the scene. Unlike the rest of the performers, he eschewed vocals, a change of tactics compared with the last time I saw him play; likewise, his live material was noticeably more rhythmic and melodic than his recent LP, and I'll be interested to see if he continues in this direction. The real gem, however, was a zine entitled City-Hunter that I found on Forgues' merchandise table. "Just some stupid stuff," he remarked – the pieces in this magazine range from conventional comics to Rorschach blots, and there's even a glossy photo of a guy pissing on a manhole cover. If that doesn't sell the average noise fan, nothing will.
M Ax Noi Mach's performance was the best of the evening. He juxtaposed aggressive vocals with brooding electronic instrumentals reminiscent of mid 90's Pan Sonic material, and it was obvious that he'd carefully rehearsed his set, an observation borne out by his incredible 2010 LP, In the Shadows, which I picked up at the show – he presented a fair number of those songs live in similar form. The slamming instrumentals and controlling, possessive vocals justified his headliner status and induced sheer jouissance in this reviewer – as I marveled at M Ax Noi Mach's musical and conceptual potency, I took a mental journey through the industrial landscape and lineage and felt honored to document its present incarnation.