Label Spotlight: Danvers State Recordings
9 May 2011
xdementia
No Comment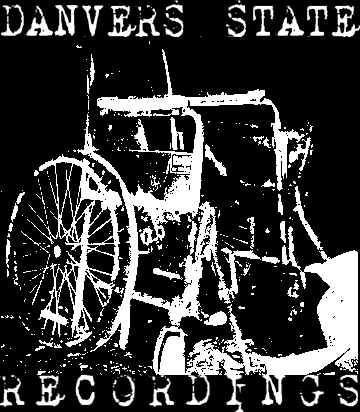 Danvers State Recordings was started in 2008 by Andrew Grant as a means to release his own material, but since the beginning he knew he wanted to release other artists as well. The first release was his own project The Vomit Arsonist, a cassette called "Reciprocation," limited to 20 copies. Even though he released an extremely low number, it sold out much more quickly than he expected. Grant started contacting other acts he wanted to release, and it kind of snowballed from there. Less than two years later, DSR is 30 releases in and Grant sees no reason to stop.
DSR releases whatever they see fit, regardless of someone's level of "fame." The outlook is that everyone needs to start somewhere, and there's no problem putting out someone's first release, provided it satiates Grant's tastes.
DSR is exclusively a cassette label, at least for the time being. The only other format considered releasing would be vinyl, but due to the high cost of getting it pressed, the possibility of that is slim. If it does, it's a ways in the future. When it comes to the DIY aesthetic, Grant prefers cassettes and vinyl to CD-Rs. "I have nothing against CD's or the digital format, I don't even think one is better than the other, really, but I've got way too many shitty spray painted CD-Rs in my collection. I just don't like them. That being said, if an artist I like releases a real CD, or even a pro CD-R, I'll not hesitate to buy it."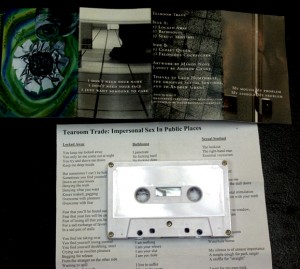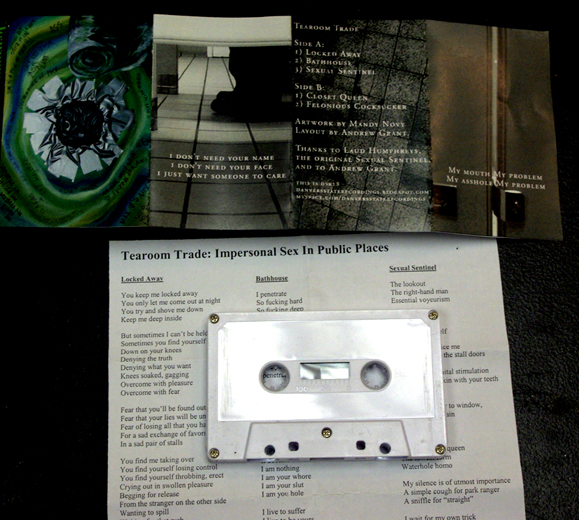 Tearoom Trade – s/t
DSR focuses on the styles of power electronics, industrial, harsh noise, dark ambient, and the like. They release things they'd want to listen to as a fan of heavy electronic music. There are offers made to release other styles of music; nothing too far removed from what DSR is doing now, but it just wouldn't fit with what. Artists are discovered mostly through networking. More often than not, Grant will seek out an artist that he wants to work with, and generally that works. Other times a release will be received in a trade or the like, someone Grant has never heard of – and if it's really good – he will seek them out and ask if they want to do a release. Only one artist has officially returned to do a second release that being Mazakon Tactics, but Grant also has plans to work with Wilt and Tearoom Trade in the future, both of whom have done releases on DSR in the past.
Aesthetic direction is usually dictated by the artist. You might be hard pressed to look at a DSR release and say "that's absolutely a DSR tape," whereas you can look at a release by Hospital Productions or Filth & Violence and know exactly who put it out. That being said, there is an effort to be as flexible as possible when an artist wants to do something different. For example, Klit's – Cock Hunters is a release where the special edition of the tape comes in a grenade bag with all the artwork, some (unused) tampons and razor blades.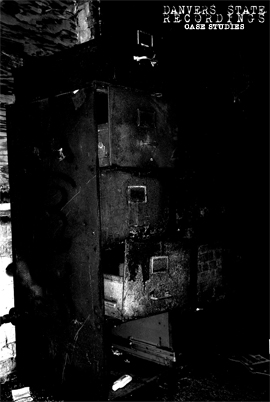 V/A – Case Studies
Perhaps the first compilation DSR released: "Case Studies," is probably the most meaningful release in the catalog. There was a chance taken on it; it was an open call for artists and the results were quite good. It sold quickly, which was surprising, considering it was only the third release for DSR. But it was the one that made Grant realize that people were paying attention, and that he might be able to make a dent in the industrial/noise scene. It was also the largest run of a release that DSR had done up to that point (100 copies), and although it took a while to sell out, people were emailing for months after it was gone.
Because all production short of printing is done in house, there have been very few problems with the production aspect of the label. All the tapes are dubbed by Grant on three dual cassette decks; with all artwork hand cut and folded, and often design by Grant is well. It is mainly a one-man operation. Therefore only limited releases are featured on DSR because there doesn't exist the means or time to do runs of anything more than 100.
Packaging can make or break a release. That's not to say Grant wouldn't buy a release if it had shitty packaging: "I've done this many, many times" he says. But if a tape, LP or CD is packaged in something really interesting or weird, or if it's done in a unique way, handmade, or if each copy is different (think RRR), then Grant would be more likely to grab a copy. To Grant, the music isn't all a release is about; it's only half of the whole package. As mentioned earlier regarding spray painted CD-Rs – or even worse – blank or hand-written CD-Rs, the lack of enthusiasm and effort shows and it is really a turn off. The majority of DSR releases have been "just tapes" in regular cases, but some more special ones have been featured as well. Packaging wise Mazakon Tactics's "Squirming in Prurience" came in a regular case wrapped in worn fishnet stockings; Churner's "The Rancid Blessing" had a nickel plated crucifix glued to the case, and the Bereft/Sewer Goddess split was packaged in unique, weird, black plastic cases that Grant had never seen before (thanks to Kristen/SG for providing them).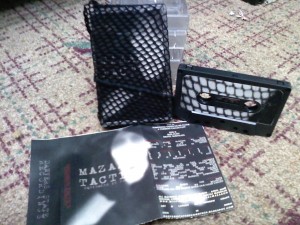 Mazakon Tactics – Squirming in Prurience
There hasn't yet been an artist who's unhappy with the finished product, and supporters of the label seem to be generally happy with their purchases. There's always the inevitable problems with the post office, especially when shipping overseas, but if there's an issue Grant is always quick to fix it. Grant sums up a typical issue with an amusing story: Aldo Volpe (who runs the amazing Nil By Mouth label) ordered a bunch of tapes from me, and I promptly shipped them out. About a week later, he emails me and asks if I forgot to put one of the tapes in it's case, because a cassette (Disgust's "Where Angels Fear to Tread") was missing. I've done some stupid shit in the past, like forgetting to dub one side (that's happened maybe.. three times), but I'd NEVER forget to actually include the fucking tape. We eventually agreed that it was the insane Italian postal service & customs that messed with the package. Mailing shit to Italy is damn near impossible, and it's always a crapshoot as to whether or not it'll get there.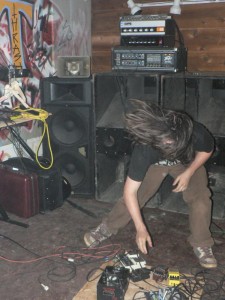 Gnawed live performance
Promotion is done almost entirely on the internet. The DSR blogspot site is updated with any news or pertinent information. Limited advertisements and announcements often appear several different message boards that cater to noise, industrial, etc as well. There have been a few instances of ad space in magazines, but Grant has never actually seen any of them, and has no idea if they've drawn anyone to the label. Yet Grant considers promotion extremely important. "With few exceptions, people aren't just going to buy everything a label puts out unless they know what it is, how it sounds, or WHY they should get it."
Grant considers reviews important for sure yet he'll admit he's guilty of not sending his releases to enough reviewers. More often than not, "fan reviews" are received on message boards or blogs. Occasionally, if someone has a blog, webzine, etc., they'll review DSR stuff (plaguehaus.com does this frequently, and for that, Grant is thankful). In the past tapes have been shipped to Zero Tolerance in the UK, and they gave great reviews of the Tearoom Trade and Nyodene D tapes.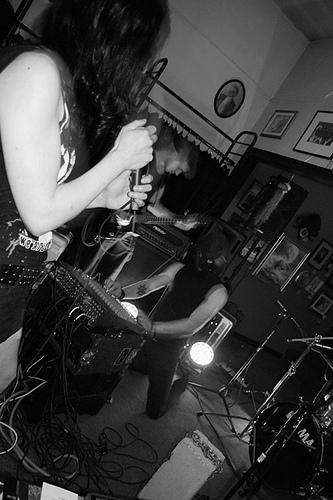 Sewergoddess live performance
Grant hopes and encourages that artists on the DSR roster perform live but he doesn't know how many of them do. There's a decent amount of them Grant knows quite well, and they've got a really strong work ethic when it comes to shows. Yet Grant is happy to say that he's shared the stage with a few of them including Nyodene D, Deterge, Murderous Vision, and Gnawed. But as far as them playing to promote the release, that's up to artist to take into their own hands.
Things Grant has learned from running a label? "Dubbing 100 74 minute tapes on one deck takes fucking forever. Hah." In all seriousness, Grant doesn't really know, "I'm not in this for money, or even recognition, really– I just do it because I enjoy it. I guess I've learned that DSR does have a decent following, and despite what I said earlier, there are a handful of people who seem to buy every single release I put out. I still don't know if I actually learned anything from that." It's possible as onlookers we can see that perhaps Grant has learned that customers will show loyalty to a label when there is a consistent turnout of quality.
Of utmost importance to Grant is to have fun while running DSR. If it ever stops being fun, if he ever runs out of artists to release (not likely) or get bored with it, Grant will shut it down. However, he really loves the sense of accomplishment he gets when he's staring at dozens and dozens of tapes all stacked up, because he knows he just created something "pretty fucking cool.."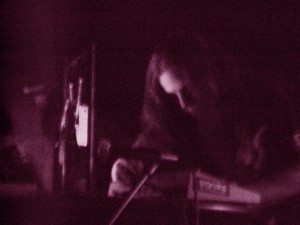 Murderous Vision live performance
Forthcoming releases include tapes by Content Nullity, Wilt, Windscale, Slaughter Fetus, Pusdrainer, Rings of the Smoke Through the Trees, a split with Tearoom Trade & Black Leather Jesus, box sets from Nyodene D and Bereft, and a much anticipated collaboration between Theologian & The Vomit Arsonist. Grant also gives us a little bit of the juicy stuff: "And I suppose I should mention that I've been talking to Mike IX Williams from EYEHATEGOD about doing a release together. That's my big secret, actually. Nothing's final; who knows, it may not even happen… but I'd be honored to work with someone who I admire so much.