Brandkommando/Seth Ryan/Fear Konstruktor/Disgust – Split 2xC30
11 May 2011
xdementia
No Comment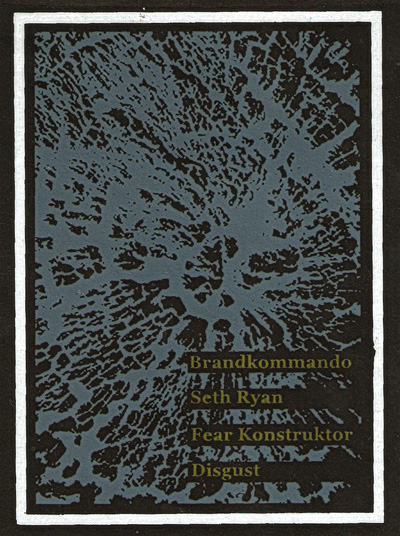 Brandkommando/Seth Ryan/Fear Konstruktor/Disgust – Split 2xC30
Wow, here's a hell of a split double cassette! Phage Tapes keeps up with their absolutely beautiful packaging standard with tasteful minimalist textured artwork in a uniquely shaped double cassette box. A heavy matte silkscreened insert is included with tracklisting. With four sides and artists to go through it could seem like a lot but the material on here is top-notch so it goes by fast.
I am familiar with only 3 of these artists, the odd man out being Disgust who I have never been exposed to. Luckily this is the best material I have heard from all of Fear Konstruktor, Brandkommando, and Seth Ryan!
Brandkommando kicks things off with a dirtier sound then usual. Two slow death industrial dirges entitled Reform and Fighter slowly plod along. Their effective vocals echoing like some moaning machine slowly suffering. I'm not sure if it's just because of the tape but the lo-fi element to their sound here heightens the effectiveness.
Seth Ryan delivers with my favorite material on the split. Slowly evolving from a focused low throb into total noisy power electronics the build-up is phenomenal. Subtly broken up into three parts RCT 1-3 is a layered intense barrage of noise, industrial, power electronics with a somewhat glitchy element to it. Not glitchy in an electronica sense but weird skipping sounds, broken cables, interruptions that strangely enough keep the track flowing perfectly. The vocals interact with the sound utilizing extreme tact and precision. This is a fucking great show of talent here and well worth picking up the split for this side alone.
Fear Konstruktor is yet another example of an artist going out of their more heavily treaded territory here and delivering to the fullest. These aren't the heavy pedal assaults that this artist usually practices but rather a rumbling montage of industrial drones that kick off in Emergency Cleaners with a siren echoing in the distance. The next two tracks are still more low hallowed drones with tons of grit and grime attached.
Finally here is Disgust the only project of this lineup I have never heard. Disgust deliver some extremely raw power electronics. Although featuring a raw sound, their tracks evolve quite nicely. The sounds here is nothing cutting edge but the compositions are competent if a little heavy on the delay lines in Rust Belt. The following tracks Kill Your Fucking Boss and Slapped Like a Bitch continue in a similar vain with less delay and more rhythmic throbbing in the former. Slapped Like a Bitch features some great junk metal percussion layering with feedback and desperate vocals. Definitely my favorite track of the three.
Overall a fucking great release. Four excellent artists bringing their best material to the table to make a feast of epic porportions. Don't sleep on this one!
| | |
| --- | --- |
| Composition: | |
| Sounds: | |
| Production Quality: | |
| Concept: | |
| Packaging: | |
| Overall Rating: | |