V/A – City/Ruins DVD
13 July 2011
xdementia
No Comment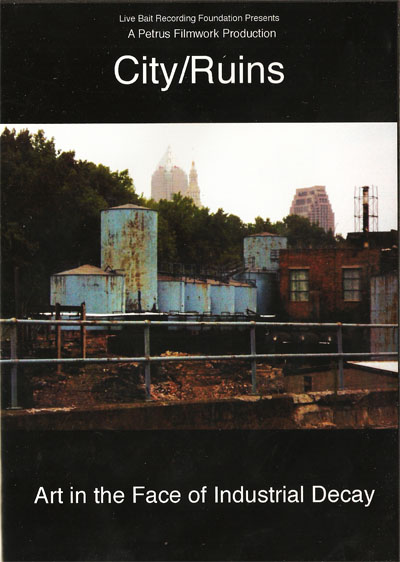 V/A – City/Ruins DVD
Live Bait Recording Foundation
Welcome to the city of Cleveland, or more specifically to the seedy noise/industrial underbelly of this not-quite-midwestern waste of land. This extensive documentary on the Cleveland scene covers everything from the view of the artists, classic venues, the history of the scene, live performances as well a general summation of noise/industrial music for the uninitiated. Very noticeable right off the bat is how well balanced and thorough the documentary is and how varied and lush the scene in Cleveland appears to have become.
There are definitely a few resonant personalities that seem to stick out a bit here. The first being Steve Makita of Lockweld who provides essential knowledge about the history of the local Cleveland scene, yet also appears to still be kicking it quite effectively. Wyatt Howland of Skingraft who so convincingly states that he has "decided to devote my whole life to industrial noise." Probably the most interesting personal story related here is the interview with Roman J. of Arsonist's Prayer (now performing as "Plague Mother") who explains having come from a strict religious background relates the sordid tale of how he followed the dark road to noise. The interviews are very well executed as the directors let the subjects tell each of their stories to full effect. Everyone from show organizers, artists, radio DJs and fans are interviewed to give a wide spectrum on the effect of noise of people in and around Cleveland.
The live performances also range in variety with the noisy industrial of Robert Turman to the weird free improv of Collapsed Arc. The Family Chapter, Skingraft and Arsonist's Prayer all offer up quick yet to-the-point performance excerpts that show the intensity and ingenuity of abstract sound quite well. Both of the film's creators: Murderous Vision and Nyodene D present focused sets of brutal sound and even the ladies are represented with a good few minutes dedicated to an interview and perfomance from Cunting Daughters.
As far as the production goes, the score by Lupus Sol is a hidden gem here matching up with the landscape images of Cleveland's industrial wasteland succinctly. The narration is perhaps the only weak point within the production with somewhat of a low-budget recording quality and an amatureish reading, but it's a small gripe for the impressive breadth and depth of the film.
City/Ruins is perhaps the most comprehensive and informative documentary on true noise and industrial music that I have seen and when a film like this can generally get me psyched up for the state of the scene it's a unique treat. If you are at all interested in noise in general or especially in Cleveland check this one out, a great collector's item, and essential documentary, and perhaps a new tourist attraction for a dying city?
| | |
| --- | --- |
| Visuals: | |
| Sounds: | |
| Production Quality: | |
| Concept: | |
| Packaging: | |
| Overall Rating: | |