Strom.ec – Divine Legions Beyond Psyche CD
18 February 2010
xdementia
No Comment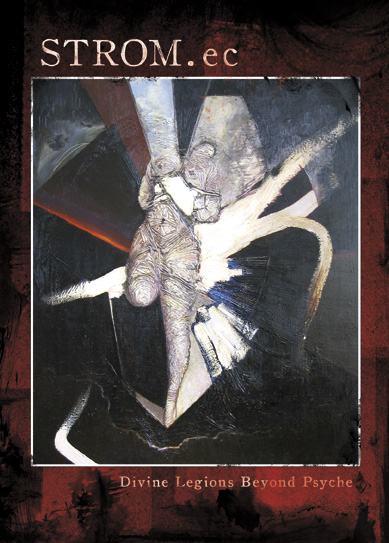 Strom.ec – Divine Legions Beyond Psyche CD
Divine Legions Beyond Psyche is a testament to the intensity and determination of this legendary Finnish power electronics/industrial project. This vision is so excellently constructed and executed as to be a unique, original and comprehensive body of work. Not to mention, dark, disturbing, innovative, and seriously foreboding. The sounds literally make me feel the tension presented in the relevant concepts, ideas that seem very pertinent to current international tensions and governmental programs especially on that fine line where individual rights are breached. But as with most of these artists work, there always seem to be underlying themes that aren't apparent right on the surface.
The sounds presented here are intense and extremely original. Strom.ec really bastardizes my ideas of what "power electronics" can be in tracks like "Valis" and "Vitaalinen Olomuoto". Valis's industrial ambience and sound design elements are some of my favorite here with clanging metal, electric drones, sharp panning finally building up to an estranged rhythm. I admire Strom.ec's willingness to exploit sound in the digital realm and use effects that sometimes are even a bit overstated. But these sounds are in good company with intense washes of harsh noise, pulsating distorted synths, brutal traditional PE vocals as well as the more effected vocals that appear in "Security Council" which I really enjoy. There's some kind of LFO creating a very wobbling character to the screamed vocals which add this abstraction that seems to just fit so well with the concept of "contradiction of the welfare state" and "activate your own state."
I just can't finish this review without mentioning my favorite track here "Divine Legions Beyond Psyche Part 1". The sound design is absolutely stunning here and literally makes me feel like I am having my brain dissected as I lay conscious on the cold stainless steel surgery table. There's electronic synth elements mixed flawlessly with what sound like mouth noises, electrical devices whirring, industrial clanging. This is more intense then any kind of visuals could even conjure and a perfect sonic manifestation of the album's title. Really impressive.
Perhaps the only weakness here lies in some of the compositional elements. Although individually the ambience and noise of "Helvetin Esikartano" is excellent, the back and forth, quiet/loud structure here seems a little generic and forced. In addition I think the 20+ minute closer "Vitaalinen Olomuoto" could have benefited by being broken up into a few different tracks as there are so many varied sounds and passages I tend to get a bit lost in the fray here. These are pretty insignificant gripes though as each track is just filled to the brim with the harshest, creepiest, and most innovative noise/industrial I've been exposed to in quite sometime. Amazing work.
| | |
| --- | --- |
| Composition: | |
| Sounds: | |
| Production Quality: | |
| Concept: | |
| Packaging: | |
| Overall Rating: | |