Flesh Coffin – Devil Worship In The Slaughterhouse C30
9 September 2011
xdementia
No Comment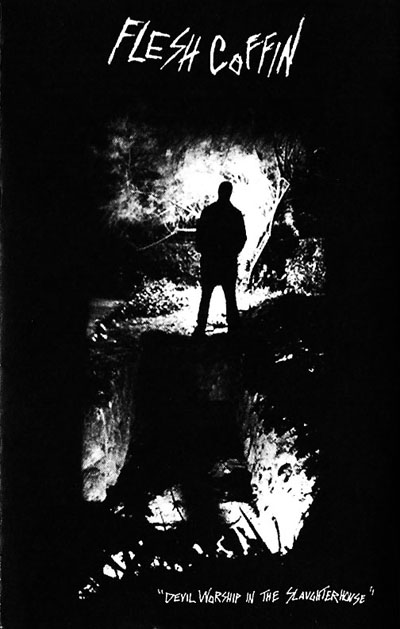 Flesh Coffin – Devil Worship In The Slaughterhouse C30
This my first exposure to Flesh Coffin and goddamn is it a good one! Devil Worship In The Slaughterhouse is a varied harsh noise album that features some very textured junk noise thrown in there. Glass, metal, dirt, and various other kinds of grit make up a dynamic and shifting bed of sound on these 2 tracks, each which span close to the full length of their side.
Simply entitled Stage 1 side A almost has a cut-scene scenario going on. Like a short documentary on complete and utter destruction this is one quick scene of gritty filth after another. I can just imagine things falling apart in various ways, sewers being upturned, dumpsters being chewed up by heavy machinery and various other types of horrible industrial waste. The distortion will overload the other elements once in a while adding a very crunchy organic sound here. The nearest comparison I can think of is that it's like a heavier, more aggressive Hum of The Druid. The one strange thing about this track, is how the ending drops off quickly to a sound that is very similar to a droning sitar.
Side B follows up with Stage 2 which is a track that features some great developments. First we have the build-up towards the beginning. A heavy scrap metal piece slowly building into a repetitive shifting kind of loop stutters before a blast of alternating harshness ensues. The bulk of the track is this monolithic shifting texture of harsh noise but there are moments that stop for some harmonic synth sounds, not really drones but more like a creepy 80s film soundtrack. It's an odd pairing but somehow Flesh Coffin flawlessly pulls it off.
I'm left utterly impressed by this strong effort. For a project I'm not familiar with this is some absolutely great stuff. The texture is certainly my favorite part and Flesh Coffin has a great way of harnessing all the different shifting sounds, distortion effects, junk manipulation and field recordings. A dynamic recording that works so well for repeated listening, yet still as harsh and filthy as ever.
| | |
| --- | --- |
| Composition: | |
| Sounds: | |
| Production Quality: | |
| Concept: | |
| Packaging: | |
| Overall Rating: | |