Filth – Winter Mind C55
21 September 2011
xdementia
3 Comments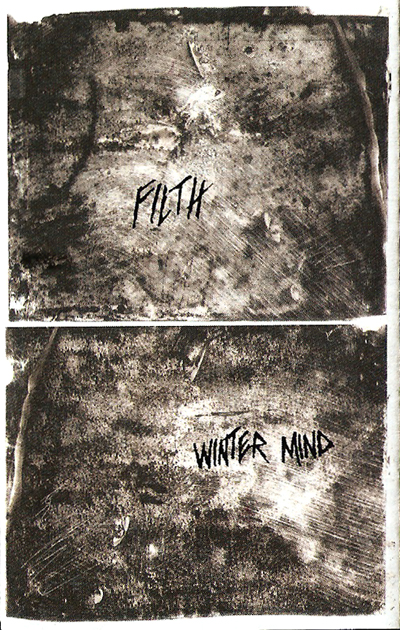 Filth – Winter Mind C55
Winter Mind is yet another of the first steps from label Out-of-Body Records and they're off to a great start. This is my first exposure to Filth but I'm happy to report that it is yet another excellent slab of blackened power electronics/death industrial in the vein of Morder Machine, …Today I'm Dead and Atrax Morgue.
Side A features some great sonic shifts, the sound here will be bent into the depths of ugly tape decay and peeling grit only to soar into filter sweeped walls of blazing hot distortion the next second. The array of sounds that Filth covers in both White Decay and the title track Winter Mind is astonishing. White Decay seems to be a kind of "warm-up" to get the listeners ears used to the dynamics that are featured here, which definitely cover a wide range. Winter Mind is a long intense track covering insanely heavy bass hits, deeply saturated tape distortion, and echoing sickened vocals. The quality of distortion here is so full and warm that almost every element that appears takes up the full spectrum of sound. Sometimes Filth wanders into the territory of being very stark with merely one layer of sound going on, but it is always changing and morphing in unpredictable yet pleasing ways as to make for an orgasmic experience.
Side B is split into two tracks as well and follows suit sonically with Side A. The tricks that Side A depended on are still utilized to their fullest in Side B as well and eventually they do become overly familiar. However the effect stays the same and the insane manipulations continue. Both side B tracks have a little less analog warmth and more shiny feedback tones. The vocals continue to stray more and more into the Atrax Morgue realm much reminding me at times of the stark and minimal moments featured in Woundfucker.
Winter Mind is like the inverse of Prurient's Black Vase. Where Prurient mixed percussion with extremely high-tones and dry screeching vocals, Filth does with Winter Mind except focuses on low tones and delayed vocals. Winter Mind is certainly a successful debut and shows an artist exploring a certain sound to it's fullest. Excellent work.
| | |
| --- | --- |
| Composition: | |
| Sounds: | |
| Production Quality: | |
| Concept: | |
| Packaging: | |
| Overall Rating: | |