Ichorous/Broken Diode – Malevolence Vol. 1 C24
18 February 2010
xdementia
No Comment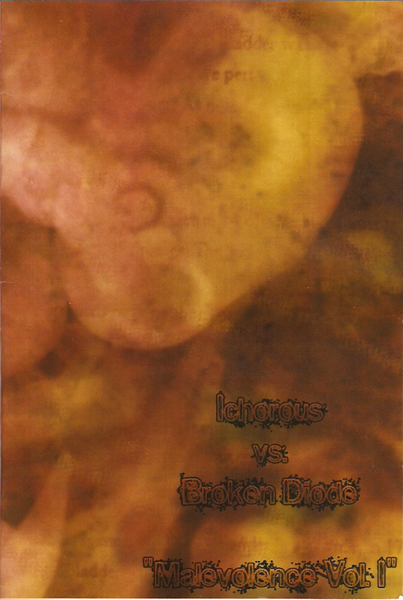 Ichorous/Broken Diode – Malevolence Vol. 1 C24
There's something about having a tape come in a zip-lock bag that just doesn't appeal to me. That said the large printed card with artwork on this is still pretty cool. The artwork is blurred, red, almost bloody like a photo from a camera shoved into something's stomach. It matches the sounds quite well because they are like an evisceration of feedback and distortion.
Ichorous supplying the first wall of assault on this side with a heavy dose of what I would even throw into the "wall noise" category. But this isn't a bland puff of white noise for ½ hour for all you HNW fanatics out there. The more stable texture introduced in the first track "Morbid Compulsion" is a chugging juggernaut of thick distorted tones and has enough movement presented both above and below the surface to keep me engaged in the piece. "Iron Scrapvomit" follows up nicely where Morbid Compulsion left off with more dynamics added to the thick wall, this time adding more variety in the high-end. It's a longer track but ebbs and flows with focus and intent that shows Ichorous to be operating on the right ailment.
Broken Diode stuffs one long track on his side with "Fruits of the Flesh" opening succinctly with a sample from one of my favorite films "One Flew Over the Cuckoo's Nest." The quality and mastering of the noise here is of a similar quality to compliment Ichorous' sound nicely. The style is similar as well with a droning quality to the noise and mid-level elements screeching and halting to produce a heavy wall of caustic noise. The track subtly becomes a bit harsher before letting up for a second and then dissipating. I wanted a little more from Broken Diode then was delivered this time, it's a solid track but a bit more subdued then his more spastic material that I really enjoy.
The tape is a very good package deal. Two excellent noisers complimenting each other with sounds and concepts. Among the notable qualities here is the production quality which has a very raw yet thick edge to everything. Recommended for harsh heads, and those that ride the wall.
| | |
| --- | --- |
| Composition: | |
| Sounds: | |
| Production Quality: | |
| Concept: | |
| Packaging: | |
| Overall Rating: | |
[starratingmulti id=1 tpl=31 style='ee' average_stars='ee']