Bitchneck – The Best I Can Do C20
18 February 2010
xdementia
One Comment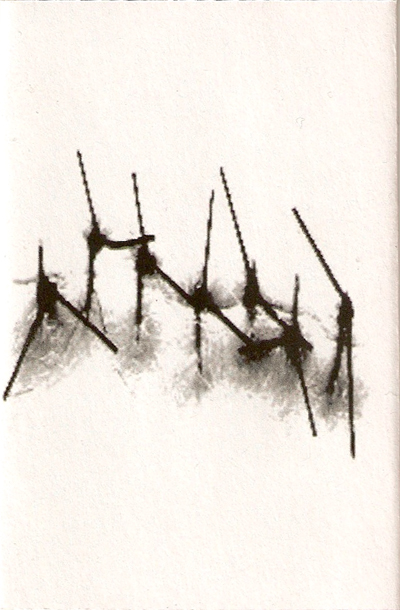 Bitchneck – The Best I Can Do C20
Self Released
Perfect, here is quick cassette of raw heartfelt power electronics from just around the corner! Bitchneck presents 4 new tracks on this C20 (I'm guessing at the length here). Armed with a cavalclade of pedals Bitchneck creates layered compositions of pulsating, grinding, abrasive power electronics with distorted vocals blasts and call-and-response feedback squeals.
Side A consists of three shorter tracks the first two "What do I know" and "Death Ought to Be" probably clocking in around 2-3 minutes each with the third "The First Note" (which is anything but) probably hitting the 5 minute mark. One particular thing I enjoy here are the lyrics, they're simple, heartfelt, but also a statement of deep reflection. Take for instance the entirety of "What Do I Know":
what do I know about
suffering heroin withdrawal
the loss of a dog the loss
of a woman my father's suicide
these ached and loitered what
do I know about suffering
nothing
It's a reflection about the tragedies in his life but in the end also admits that perhaps these tragedies can almost be mundane in a certain context. Perhaps compared the great suffering someone else in the Mr. Bitchneck's life has experienced, or perhaps because he himself still hasn't come to term with these tragedies. It's a simple concept and quite expressive while still retaining just enough of an air of ambuguity.
Side B contains what is my favorite track here. "This is Not a Practical End" runs for about 7-8 minutes I'd guess and according to the liner notes features a sampled reading by William S. Burroughs. Bitchneck manages to put this sampled spoken word into the perfect context with alternating analog synths, screaming feedback, building, dying down, and screaching it's way to the surface again letting a mangled drone reveal itself before the end. Finally letting Burrough's urgent diatribe bleed through only to die away just as quickly.
A short but very promising first release from this Boston act. I like to believe this tape is but one of a small piece of the pie that makes up New England's burgeoning harsh electronics scene and demonstrates that these Massholes are pissed off, and ready to bash some skulls. Excellent work.
| | |
| --- | --- |
| Composition: | |
| Sounds: | |
| Production Quality: | |
| Concept: | |
| Packaging: | |
| Overall Rating: | |