Hymnal Bruise – Untitled C90
25 October 2011
xdementia
No Comment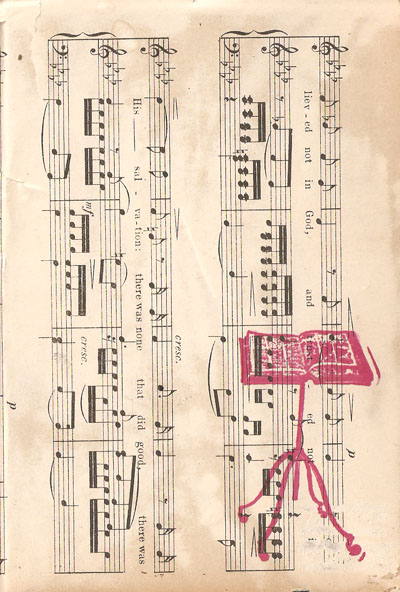 Hymnal Bruise – Untitled C90
Yet another mind-blowing release from Auris Hypothecary from an unknown artist to me. I have no idea who Hymnal Bruise is as there are little-to-no credits provided in the inserts. The packaging is great, along the lines of Auris Apothecary's other excellent manifestations. It's a recycled case and recycled cassette yet the quality is certainly top-notch on both accounts. A torn page from a hymn book is plastered over the double-cassette case and stamped with a demonic icon.
The sounds are treasures within themselves. What kicks off as a lo-fi death industrial chugging noise swash breaks down into unearthly chant loops. There's plenty of atmospheric shuffling and incidental sound here but that doesn't ruin the atmosphere at all. The textures finally die down into lulling tape loops, but it eventually pics up with creepy flute-like sounds, delayed and degraded to form very cult-like cinematic feel. This is definitely unique and creepy which makes for a very profound listen. I highly recommend burning candles or incense while listening for a deep experience.
This is a one sided tape, so the second track immediately follows the first. It reminds of something off of N.'s Hospital Murders cassette and it features a droning organ piece with plenty of airy drones accompanying the dying melody. Maybe there are even some tape degraded vocals in here too, I can't tell. The piece drones on and simply is nothing but blurry candlelit ceremonies. A perfect soundtrack for your next opium-laced orgy.
Untitled is a warm analog ride through satanic mass and dusty, dark corners of forgotten church tombs. Perfectly realized from the packaging on down through the creepy drugged-out sounds this release is yet another excellent addition to the ever-flowing sparkling waters-turned-wine that is the catalog of Auris Apothecary. Excellent work.
| | |
| --- | --- |
| Composition: | |
| Sounds: | |
| Production Quality: | |
| Concept: | |
| Packaging: | |
| Overall Rating: | |