John Mannion – Slice Through Or/In Glassmetal LP
3 November 2011
xdementia
No Comment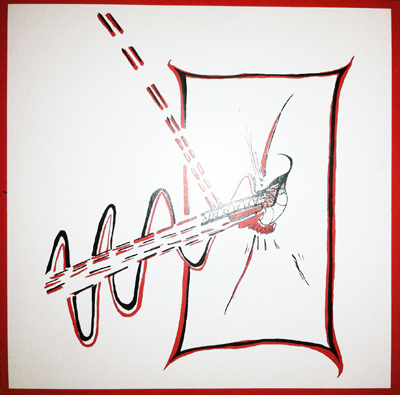 John Mannion – Slice Through Or/In Glassmetal LP
John Mannion is one half of The Cathode Terror Secretion and a member of the now infamous Red Light District. With Slice Through Or/In Glassmetal Mannion presents a phenomenal full-length of epic proportions which has managed to capture not just a high sense of sound design, composition and evolution with abstract sound, but also a way to harness the "physicality" that so many noise artists attempt to portray in their recorded material.
Fading in from merely the ambience of an unaffected framed fan from where most of the sounds originate, the record kicks off. The entire recording plays as one track split between both sides, heightening to great climaxes and halting to scatterbrained noise textures and shortened gestures. The rip-roaring textures that result from various objects contact mic'ed and being applied to an average fan boggle the mind here. I'm guessing that it's not entirely from that source but the variety of sounds – from noise beds or oscillating rhythms – eventually collide into sputtering granular pops and sizzles never seem to run dry. Side A explores various bouts of energy with pummeling power electronics to spitting academic short-handedness. The forward momentum is palpable and cannot be ignored and even as things slow down to give way to side B you can tell Mannion has not yet finished with you.
Side B is once again a dazzling array of sound design and industrial textures. There are atmospheric vocals throughout the record mostly spoken through a loudspeaker so as to sound like some fucked up announcement which is just another random object drowning in the dense sea of sonic waves. Loops finally converge and there are strange amalgamations of female vocals – or are those squiggling synth patches? Just when one moment has sit still enough a new passage kicks in that brings things to the next level. Lots of industrial loops pervade this side.
Slice Through Or/In Glassmetal is a modern orchestra for a post-modern world. It's an illusion of the ears and mind, and a true embodiment of what noise is all about. There's no genre that this record really fits into, experimental, noise, industrial, this has it all. Truly a masterpiece of the 21st century, welcome to the dilapidated future.
| | |
| --- | --- |
| Composition: | |
| Sounds: | |
| Production Quality: | |
| Concept: | |
| Packaging: | |
| Overall Rating: | |