Brume – Glossy Black Fruits C45
6 January 2012
xdementia
No Comment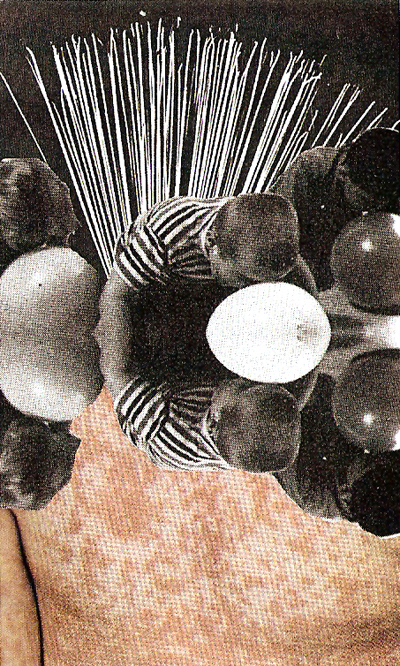 Brume – Glossy Black Fruits C45
If you are not familiar with the sounds of Brume you should be ashamed of yourself. Glossy Black Fruits is the latest effort from Christian Renou's Brume project based out of France and now risen from the dead. I am familiar with probably well over 6 Brume releases although that still only breaches the shallow-end of Renou's discography with the project. This excellent cassette is beautifully packaged with understated collage work and simple text that reflects the varied electroacoustic influenced sounds perfectly. And the music within, I am happy to report is probably some of Brume's best yet.
The sheer expanse and intricacy of sounds and textures that Renou exploits is simply mesmerizing. Add to this a hand so adept at editing and composing and we are left with something that may just be the perfect amalgamation of abstract sounds. Hallowed percussion, tortured strings, slowly rotating horns, unearthly moans are all here, and that is merely side A. One moment flows so slowly yet perfectly into the next, yet what makes it all so unique is that the first moment would find the listener in a darkened Lynchian corridor and the next would be propelling you into a torrential downpour of glistening metallic shimmers. Even stranger for the project is the outtro sequence featuring the sounds of an acoustic guitar played by C. Guiggia as credited in the j-card. The use of guitar is certainly a new element for the project as far as I am aware and Renou fits it quite flawlessly into this sweeping epic.
Where side a featured a somber, almost peaceful atmosphere side b rings in with a more sinister edge commencing with a sonorous build-up to a ringing industrial loop. The rhythmic movements continue for the bulk of the track, sometimes slowly morphing into something new, at other times changing a bit more abruptly, but always with tact and precision. Around the bouncing percussion sounds are ringing bell-like harmonies, buried vocal samples and shimmering, shifting drones.
Brume's Glossy Black Fruits is truly the mark of a master at his craft. The material here is not only personal, but universally emotional as well which is so rare for an experimental release. This tape has been on repeat for the last few days and I feel like I simply can't get enough. My favorite Brume release to date, and an essential component to any collector's library.
| | |
| --- | --- |
| Composition: | |
| Sounds: | |
| Production Quality: | |
| Concept: | |
| Packaging: | |
| Overall Rating: | |