Label Spotlight: Annihilvs
23 January 2012
xdementia
One Comment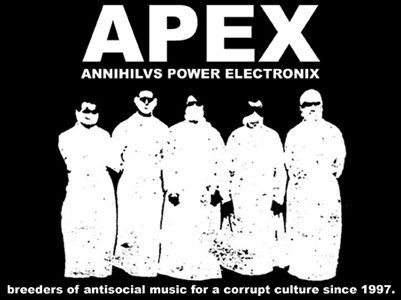 Annihilvs Records is the label of seminal U.S. new school power electronics Navicon Torture Technology's frontman Lee Bartow, who is now operating musically under the moniker Theologian. The label has released many CD, and tape releases including such classics as Jarl – Sealed Void to IRM – The Cult of Young Men all with little fan fare, continuing to stay an underground and unsung entity. Existence Establishment has reviewed several of the releases coming from the Annihilvs camp with very high ratings so we really felt like the label needed to be explored further.
Annihilvs was founded in the summer of 1997 to release the split CD, Amalgam: A Collection Of War Poems by Navicon Torture Technologies and Negative Eight. This was followed by a series of extremely limited cassettes from 1998-2000, when NTT was signed by Malignant Records. CD-R releases supplanted the cassettes from about 2001 on. Originally intended as a collective between members of the bands Negative Hate, Side 3 and NTT, it eventually became clear that Lee Bartow was the primary driving force behind the label, creatively and conceptually. Tim Spann of Abfall had also been considered an officer of the label, and is still regarded as something of a silent partner.
In general, Annihilvs is largely just another creative outlet for Bartow, albeit one that can create more stress for him than it relieves. At this point, the label is inextricable from Bartow. When he's depressed, the label's operations suffer. There have been times when it's been more of a burden than others, but Bartow will never stop doing it in some form or fashion. The goal of the label is simple and pragmatic; Bartow merely looks to release into the world his art and music, as well as that of people whose work he admires. But of course this effort comes at a cost that is more than just monetary, it serves mostly as a source of aggravation for Bartow though he follows up his sentiments with a simple statement: "I endure because I must."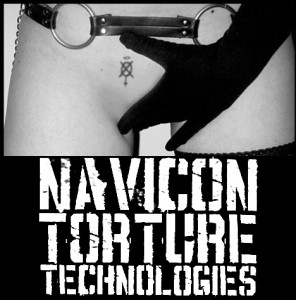 Annihilvs has reached a point where formats are chosen for the sake of simplicity, ease of reproduction, and economics. Bartow recently began producing t shirts that include cassettes, as a way to say FUCK YOU to the douchebags who think putting a brand new album up on torrents or posting a FLAC on their blog is somehow beneficial to the artist, or the label. "Try downloading a t shirt" says Bartow. Currently in the works are several vinyl releases, but as it's something Annihilvs has never undertaken before and it tends to be more expensive than pressing CDs, it's been taking a long time to get it together. In addition Annihilvs' releases are limited due to a matter of economics. It costs money to press CDs, print shirts, etc. For the past year or so, Bartow has been doing what he calls "produced on demand" items, which just means that the item does not physically exist until someone orders it. He keeps the materials necessary to construct it on hand, which are then assembled when the need arises. This allows for certain items to be unfettered by the notion of being limited, and saves some storage space. It may also lead to delays in shipping, but this is an obstacle Bartow intends to tackle in the new year.
When considering the packaging, the visual/physical element of a release Bartow states that it is just as important as the audio (perhaps even more-so in the digital age). An effort is taken to make releases look good, while maintaining the same elements of simplicity and economics that govern the choice in formats. Bartow explains with resolve: "I think I've done a decent job of combining DIY ethics with a certain degree of aesthetic quality."
Industrial noise, power electronics, and dark ambient are the realm of Annihilvs, however a slow transition is being made into working with artists that are more closely identified as post-metal, because that's where Bartow's tastes have migrated during the past decade, but Annihilvs will always focus on underground industrial music.
Over the years a secret sci-fi mythology has been concocted that exists behind the label, a story that perhaps will be published some day. Other than that, the unifying aesthetic is one of bleakness, brutality, and darkness. Sonically, the thread that binds every release on Annihilvs is apparent; it's a reflection of Bartow's aesthetic which leads him to work with the artists on his roster. Bartow explains: "I don't really know how to explain it any further than that. The depths are there to be explored by others, I merely open the door."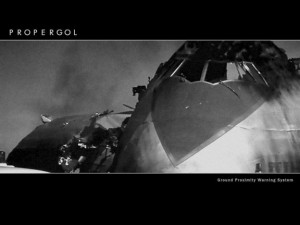 Propergal – GPWS
Since many of the releases on Annihilvs tend to stand out, we inquired of Bartow which release he finds most meaningful: "That's a difficult question. If I step back and look at my massive discography, I'm not sure that I could say which one release is the most 'meaningful' because the entire body of work stands as a document of where I've been in my life." Yet Bartow exclaims: "I think that GPWS by Propergal is his best album ever. The Cult of Young Men by IRM is an important glimpse into the evolution of the project." But of course what excites him most right now are the current projects in development like the more recent collaborative releases such as Aderlating, STROM.ec, Fragment King, Four Pi Movement, and many others.
Yet it's not all excitement either, there are several challenges that Annihilvs has created for Bartow. The number of people who are willing to be patient with him outmatches the number of people who are not, and that's a very important distinction because it weighs very heavily on Bartow who suffers from depression which saps his motivation to move ahead with his goals. "It's unfortunate that I have to let my art be the thing that gets left by the wayside when I have an episode, but something always has to suffer, and I need to be responsible enough to get up and go to my shitty job every day" says Bartow. He continues: "As I dealt with the depression that surfaced around the time I turned 40 years old, my tendency to regard my "customers" as adversaries began to come to the fore much more overtly than it ever had before. Because I'm not capable of maintaining a boundary between myself and the label, it was more difficult to maintain the same illusion of professionalism that certain other people in the scene are capable of. If I had no enthusiasm for life whatsoever, how could I expect to feign enthusiasm for any artistic activities? It became harder and harder, until I really just didn't care to pretend anymore." One can clearly see and hear the negativity reflected in the aesthetic that unifies the label, and it shows that Annihilvs is unique simply by nature of its existence.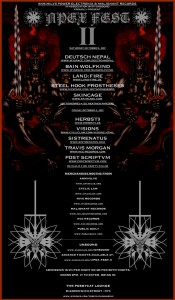 Flier for Apex Fest II
Bartow believes that from a certain standpoint, longevity is the best promotional tool at his disposal. He's been doing various artist projects for more than 14 years now, and has been fortunate enough to have maintained positive relationships with a great many people who he's met along the way. If a new release is posted on the website, in most cases, multiple copies will sell within the first few days — often, within the first few hours — and this means a great deal, especially because it can take an inordinately long period of time for those orders to be fulfilled. In the past Bartow has used advertising in magazines, online forums, but now his energy is focused on his blog and various social media outlets for exposure. Not to mention the help of the other artists that are involved with on the various projects which is of extraordinary importance.
Bartow has been organizing live shows since shortly after the label was created. Since 2005, Annihilvs has been doing an event called the Apex Fest every two years. The first fest included three acts from the Annihilvs roster (IRM, Jarl, Kaiten), as well as Institut, along with Slogun, Post Scriptvm, SKM-ETR, and the Sickness side project, Omei. The event remains the only time IRM, Jarl, Kaiten and Institut have ever performed in the States which is a great achievement for the label. The same can be said for Apex Fest II, for which saw Herbst9 and their side project Land:Fire to the U.S. for their only appearance on this continent, to date. Two years later, the Gnaw Their Tonges side project Aderlating played in America for the first and only time at Apex Fest III.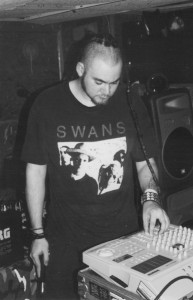 Navicon Torture Technologies live
Although Bartow appreciates every review that the Annihilvs releases garner, he has mixed feelings about them. Bartow explains: "Because I have an obsessive personality, it's difficult for me to handle the way things are perceived by the 'masses,' especially when dealing with the Internet." Ten years ago, the scene was much more insular. Even though a huge community existed online, which is what allowed Annihilvs to reach as many people as it has, it was comprised primarily of only a couple of generations of people. Teenagers represented a much smaller demographic back then; of course now, there are people who have grown up using the internet over the last decade, and this has led to a general dumbing-down of the scene, along with an exponential expansion of the worldwide fanbase.
There's a generational sense of entitlement, which Bartow finds disgusting. "Another unfortunate side effect," Bartow states " is that the people who might have once reviewed a release are just as likely to rip it and post it online for free, under the guise of 'promoting' an artist." Because of a general disconnect, some of them may actually believe what they're doing is somehow beneficial.
Bartow has always kind of looked at the label in a sort of curatorial context; he prefers to ask artists if they want to work with Annihilvs as opposed to accepting demos. This has led to a very natural element of quality control. Because so many of Annihilvs' artists started around roughly the same time, there are a number of 'old guard' artists working on parallel paths. So, there was a rich field of artists from which to pick. Needless to say much of Bartow's own work has inspired a lot of other younger artists over the past 14+ years. Projects like The Vomit Arsonist and Content Nullity have come into the fold as a result of relationships that developed due to their inspiration from Navicon Torture Technologies and Bartow's other activities. Bartow exclaims "I feel very lucky, because doing what I do has led me to discover a huge wealth of amazing music and art, and I've built really solid friendships as a result."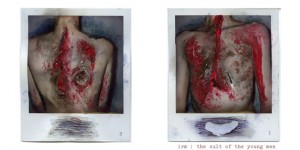 IRM – The Cult of Young Men
Bartow admits "It requires a large amount of patience to deal with me. I consider myself an artist, rather than a businessman, and I'm not very adept at the business side of running a label." There are a number of artists who have stuck with Annihilvs for multiple releases, and Bartow is warm to the idea that they would continue to do so, moving forward.
The nature of the underground industrial noise scene is such that, in general, everyone can understand the things that trip people up in daily life, and they've doubtlessly had similar experiences. In the end, Bartow has learned that running a label is really annoying, but also a source of great fulfillment. It's allowed him to work with some excellent artists and to make some great friendships.
The future of Annihilvs will continue with their mark of quality and quantity. Looking forward we can expect a shitload of collaborative cassette releases with Theologian, the final vinyl EP by the amazing doom band Vvltvre, a massive double CD-R compilation called America, The Grave. As Bartow looks ahead his enthusiasm for the label seems to counter the hopeless feelings he portrays with his artistic endeavors: "More and more. Onward and upward!"