Andrew Quitter – Floaters Original Sound Track CD
25 February 2012
xdementia
No Comment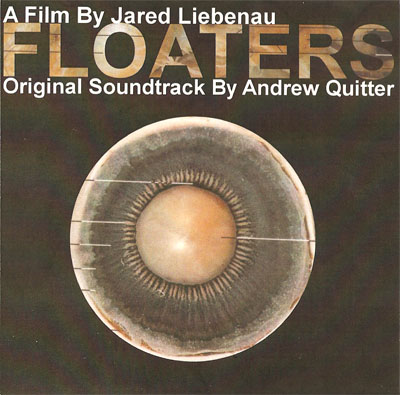 Andrew Quitter – Floaters Original Sound Track CDP
Andrew Quitter is the man behind Dumpsterscore Home Recordings and the heavy synth drone project Regosphere. Quitter is a quickly rising up-and-comer in the international noise scene having released some excellent recordings as well a large amount of split releases with the likes of Content Nullity and Extraordinary Pigeons. He is clearly one step ahead of me having already released another new album under his own name entitled..
Here he is though, releasing music under his own name and it seems to differ slightly in that these tracks come off as less aggressive and more "musical" although still dwelling in the realm of experimental electronic music. This release is quite epic, with some absolute great moments and it prompted me to look up the film itself, which can be seen here. I was thinking seeing the film would add some context to the soundtrack, but I think in fact, it is the other way around. The soundtrack has so much more depth and expression than the more concrete images that the film provides. The soundtrack expands on the themes, elaborates on each passage and fully explores the concepts in the film, where the film itself only seems to scratch the surface.
Stylistically this is pretty unique stuff, I can't really compare it to much – perhaps Dieter Muh comes to mind. But Quitter mixes things up quite well and among the heavy alternating, quasi rhythmic synthesizer compositions are some great shorter tracks like Insect Debris, Paranoia, and Refractive Index which feature some excellent musique concrete sound design.
The sparse melodies that grace the disc are notable too, the melancholy electronica of End Credits (Theme Reprise) are notably the most musical part. But Quitter manages to reach pinnacles a few times throughout the album, one particular spot that jumped out at me is about ⅔ of the way through Macular Degeneration where epic synth pads and light noise swells rise to the forefront.
Regosphere fan's don't need to worry though as there is plenty of industrial-tinged and abstract elements here to satiate you. Perhaps the only moment when an actual drum machine is presented is in Vestron – Get in My Hearse (Dub Mix) but it's accompanied by creepy overtones. Overall an excellent addition to Quitter's body of work and shows he is not just talented in noise/industrial but also in this more conceptual type work.
| | |
| --- | --- |
| Composition: | |
| Sounds: | |
| Production Quality: | |
| Concept: | |
| Packaging: | |
| Overall Rating: | |