V/A – God Blast America! DVD
22 March 2012
xdementia
One Comment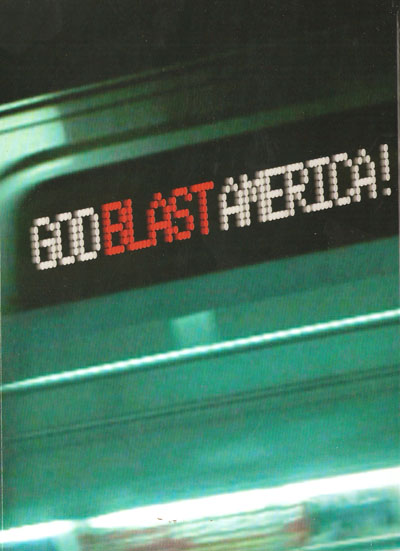 V/A – God Blast America! DVD
This is a real treat for those of us who – years later – are still kicking ourselves for missing this mammoth show. The coverage is as comprehensive as one could possibly ask for – not every full set is featured here but it is easily over 2 hours worth of material. The production of both the audio and video is astounding considering the live condition in which it was captured. Visually – as with the audio – each set has it's own mood which is a great strategy and it keeps the experience new and interesting with each new act that graces the stage.
Some of the projects featured only have a few tracks here and with the enormity of all the material it's totally fine. Anenzaphalia is up first with 2 tracks and it's a good warmup for what's to come. Following is a complete set from Janitor and I have to admit my ignorance of the project. But what follows is roughly 40 minutes of electronic industrial music with a subtle pop sensibility and nods to power electronics which absolutely blow me away. The set is paced well and features a number of instrumental tracks with vocal tracks as well. Visually this is one of the more basic sets with simple video footage of what is happening on the stage. It works because there are some fun antics that take place during the set – showing that Janitor doesn't take themselves too seriously.
Der Blutharsch is up next for another great set surpassing the 40 minute mark. The visual format is similar once again keeping to what is happening on the stage but the lighting and atmosphere is so different than what the Janitor set featured that it feels very fresh. The angle of the camera works and the lighting consists of deep red and purple hues with the silhouette of the band members showing prominently against the light. The audio is great, Der Blutharsch plays many of their "hits" as well as some great transitions and moments.
Bocksholm is up next with yet another full set. I was really happy about that since they are one of my favorite acts on the bill. Their video is a mashup of live and projected footage as well as panoramas of old photographs which works perfectly as it appears there's a little less action happening on the stage. Yet there are moments that we can see Bocksholm is producing their sounds live, like for instance the few shots in the beginning where one of the artists plays a flute into the microphone. Bocksholm form an enveloping mass of industrial soundscapes for over 45 minutes with varying industrial rhythms, textures, and ambient moments. Often traversing into noisier realms but always with a large element of organized sound design.
By the time Con-Dom rolls around it seems we are ready for some serious harsh shit – and that is what he brings. I find the first part of his set a touch dry with some basic noise walls but this eventually leads into a sick delivery of power electronics and finally in Moor Rapist a heavy dosage of industrial loops. A very effective performance that features a great juxtaposition of stage presence against the projected backdrop.
Genocide Organ is – of course – the performance we have all been waiting for so it is a touch disappointing that we only get 2 tracks. Luckily they are as intense as ever with a great mix of projected footage and stage activity. It's tough to tell what was shown during the set and what was added in post production but the mixture of different footage is alluring.
The Slogun set is probably the most entertaining here with John taking his usual formula towards live sets but obviously getting a rise of the audience. Sickness is backing as noise so there is a fluctuating bed of harsh sound always present as well as a kick off from Deathpile on vocals. Quite the supergroup. The visuals are raw and the camera moves around the floor to effectively capture the action which was a great decision on the choice of the documenters. Once John takes the mic the berating begins. Talk of bullshit noise scene, eBay, fanboys and other things which must bother him always goading the audience into taking action. At the same time the rants are always punctuated with the clear statement "I don't give a shit"; and by the end of the set I would say I am certainly convinced that in fact, he does not give much of a shit.
Operation Cleansweep is up next with a total sensory overload. Making use of the good'ol strobes they present an atmosphere of seizure-inducing lighting and lo-fi noise. It is perhaps the first set where I lose interest but there are moments I really enjoy here as well. The shots of the machine operaters just staring blankly into space while a blaring assault of sonic terror blazes through the speakers is a great moment. The seeming detachment that is portrayed of the artists to their violent audio collage is a performance mechanic most I enjoy.
And so it is that Deutsch Nepal begins his set by addressing the audience "Well, this ends as it started with an old Swedish whore on stage! which sets the tone perfectly. Yet again this is another set that I really wished was here in it's entirety but I will do my best to enjoy the tasty bits I was given. Once again a mixture of post production stock footage and a darkened stage work perfectly to capture the atmosphere of the audio which is closest to the sound of Janitor's described above with more ambience thrown in.
God Blast America! is a landmark release as it was a landmark festival of industrial electronic music with every artist bringing their absolute best to their performance. The video is treated with tact, precision, and most important of all – taste in the subtle post production and mastering to bring the best sonically and visually. Aside from actually attending the event, I couldn't have asked for more.
| | |
| --- | --- |
| Composition: | |
| Sounds: | |
| Visuals: | |
| Production Quality: | |
| Concept: | |
| Packaging: | |
| Overall Rating: | |