Corephallism/Gnaw Their Tongues – Split 10″EP
23 April 2012
xdementia
No Comment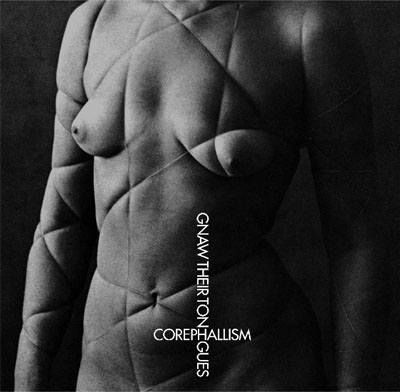 Corephallism/Gnaw Their Tongues – Split 10″EP
This is easily one of my favorite releases of 2012 and it's great to know that before the halfway point. Two underrated acts team up for this obsessive industrial slab of vinyl to form a formidable sonic force. Their respective styles differing so much yet at the same time complimenting each other gracefully. Right off the bat I noticed the absolutely gorgeous artwork with sparse yet well placed text which helps make this release an instant classic.
Corephallism is up first with two tracks of beautiful drone combined with noise and industrial influences. It's too ambient to be power electronics and much to somber to be straight up industrial. Both Abandonment and Rapes of Convenience are heightened with emotion and sharpened with a dark edge to create a truly menacing spectre. The tracks are short and to the point which easily encourages multiple playbacks. It's going to be no time before this record is already worn out.
Gnaw Their Tongues does away with their latest bombastic neo-classical flirtations to present A Moral Guide to Self-castration and Necrophilia which is a booming and sickened barrage of industrial clangs, screeches, and groans. Drum machines mangled enough to sound like they are the manifestation of a long dead factory worker haunting his former place of employment. Not to mention the sickened black metal-influenced vocals that appear. Cat like growling, insane whispering floating among the hollowed sounds.
This is truly a release of mammoth proportions, so honed to a point with aesthetic direction and cohesiveness that it's bleak artwork seems to seep through into its surroundings. The sounds presented are so intensely composed and atmospheric that it seems over in a flash, but you are left with some kind of disembodied evil resting heavily on your conscience. This record actually makes me feel guilty, regretful. Especially when I've found the needle has worn through it after so many repeated listens.
| | |
| --- | --- |
| Composition: | |
| Sounds: | |
| Production Quality: | |
| Concept: | |
| Packaging: | |
| Overall Rating: | |