Navicon Torture Technologies – Gospels of the Gash 2xCD
27 February 2010
xdementia
No Comment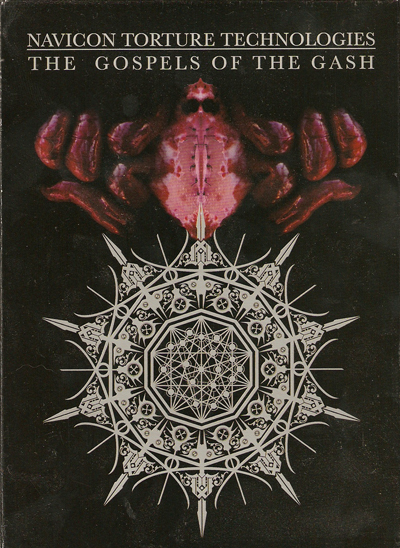 Navicon Torture Technologies – Gospels of the Gash 2xCD
NTT is one of those projects that just refuses to stay dead. This release comes after the stated demise of the project but delivers as if it is still very well alive in all it's savagery. Gospels of the Gash is most easily compared to NTT's previous double disc set the Church of Dead Girls also released in a snazzy-looking digipak. The artwork is familiar as glossy abstracted women-parts bedazzle the symmetrical fold out pro-pressed package. It's minimalist sheen pleases though it feels a bit sterile, but this compliments the sound with effectiveness.
The atmosphere is very similar to what most of the NTT discography is like but these tracks tend to use more sound design and sampled loops then synth work and delayed vocal harmonies. Most of the tracks are rhythmic in one way or another with subtle orchestral elements always seeping in along the edges. I always enjoy how NTT uses synthesizers to emulate the orchestral elements and Gospels is no exception, especially in the powerful track "The Noose and the Clawhammer" where the typical synth drone is confused with the bowel-churning blow of low horns as if from a Tibetan funeral march. The first disc ebbs and flows but has a little less dynamics and variety then the second. The tracks are more understated, long and droning, with usually only one rhythmic loop fading in and finally fading out again. Vocals are featured on most tracks as well, always effected and adding to the atmosphere. The material is similar to what can be found on Church of Dead Girls but a bit more ambient and spacious then throbbing and noisy.
Things really come together in "My Whole Life is a Suicide Note" with it's over the top track title and beautiful ambient tones complimented with samples of suffering, screaming, and scathing vocals. The track very much exemplifies the characteristics that NTT does best.
The energy permeating the second disc is potent. Kicking off with two thick droning tracks and some very effected obscure vocal samples immediately the atmosphere is picking up pace. Things finally come together in "Self-Contempt As An Occupation" which is probably the best track on the 2 disc set. The rhythm is so extremely heavy and completely addicting. NTT's use of samples here is very well done, although it sounds like some of them may perhaps be from films I haven't recognized any of them. It's in "Soliloquy" where the disembodied chanting layered over the pulsating electronics comes together and the emotional softly spoken samples in "There is Beauty in Suffering" once again show that Mr. Bartow is working at the top of his game here. Tying up the whole set perfectly is the floating "Benediction." Featuring a drifting drone and low alternating cello string sounds with Bartow's token screamed and distorted vocals it acts as the perfect ending of this sprawling 2 disc set.
Gospels of the Gash is perhaps not quite as intense as Church Of Dead Girls but considering how much time spans between the two it's certainly commendable that Bartow is able to retain the level of quality and consistency of vision that he has with the NTT moniker. If you like any previous work by NTT you are sure to enjoy this just as much, in addition to the consistently dark and abrasive atmosphere there are several standout tracks which as an NTT fan I would not want to miss. Excellent work.
| | |
| --- | --- |
| Composition: | |
| Sounds: | |
| Production Quality: | |
| Concept: | |
| Packaging: | |
| Overall Rating: | |