V/A – People Who Do Noise DVD
13 April 2010
xdementia
No Comment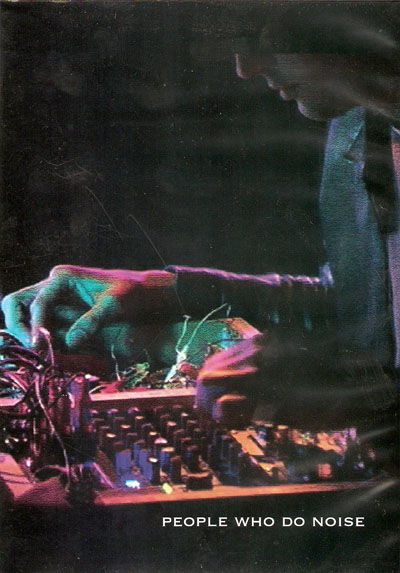 V/A – People Who Do Noise DVD
People Who Do Noise is a documentary video about noise in Portland. The director has chosen to portray the current state of the Portland noise scene through interviews and staged performances with the artists involved. This decision was probably for the best because I would only imagine having some disembodied narrator attempting to set some kind tone for the film either being too serious, or too flippant to get the film's point across. But, it's really the lack of agenda that seems to work so well for People Who Do Noise. The documentary is mainly focused on what the artists have to say. Because their words can be so contradictory – one hilarious point in the film is when the members of Yellow Swans argue in front of the camera about the infinite aspects of feedback loops – and People Who Do Noise accurately shows the dualities of modern noise quite well.
The sets are varied, with probably the bulk of them being rather mediocre. Luckily the cinematography is apt enough to keep the viewer interested and the more boring live sets are interrupted with plenty of amusing opinions, anecdotes, and theories. One of the shorter but more effective sets is that of Joshua Hydeman deliving some brutal, spastic harsh noise with screamed vocals lying somewhere in between Masonna and Prurient. Very reminiscent of his outings with 2DeadSluts 1Goodfuck. Amusing as well, is Hydeman's drunken ramblings of "if it's not going to kick ass, then don't do it" remarks, that are almost a scathing remark on all the more accepting hippy "everyone is welcome" attitudes that prevail for most of the film.
Some of the more interesting scenes are hearing Smegma talk about their involvment in the burgeoning L.A. punk scene, as well as the similarities in artists opinions regarding the post-apocalyptic end of civilization, the ghost in the machine, and how noise is the new "punk rock". After all is said and done, for me it is the artists that offer the least amount of explanation as to why they make noise that strikes closest to home. This can best be exemplified in the very few words merely written on the screen by Daniel Menche, with a subtle nod to John Cage: ""Music is as loud as one's own blood. So amplify it as loud as possible! Make the speakers bleed."
As far as the performances go, Argumentix certainly throws me for a surprise. Having been familiar with some of his work it always seemed so wanky and tongue-in-cheek but he delivers something much closer to power electronics here and maintains quite a serious guise throughout the interview. Hydeman as mentioned before, plays an aptly short set and offers some entertaining antics. It isn't until the Oscillating Innards performance however, that the audience is shown the more precise and controlled emotion that noise can portray. Gordon offers an excellent set that is heightened with some effective editing, which at one point is slowed down while Ashworth's voice is heard speaking from the interview and suddenly sped up as the sound takes main stage again.
Finally, we've waited all this time, the big one, Daniel Menche! I was really looking forward to his interview because although he is a prolific artist I haven't had the opportunity to be exposed to many of his ideas. Which brings me to what probably is the biggest dissapointment of People Who Do Noise; no Daniel Menche interview! I almost feel like screaming "false advertising" on this one because damn I was looking forward to it the whole goddamn film. Luckily the recorded set is a great compositionally although it leaves some wanting for a true intense live noise footage. What People Who Do Noise is sorely lacking is the energy that is captured when fervent noise fans and artists (who of course, are often one in the same), collide. I am of course referring to something akin to the intensity of Menche's set at No Fun Fest 2006 which may even be the same set that appears on the deleted scenes in the DVD. Why they chose the other set instead is beyond me.
As for the special features there are a slew of other live noise sets, the only one of which I really found to be solid was Blakk Condom, a name which is completly unfamiliar to me. Among the deleted scenes I enjoyed both Acre's set and Budweiser Sprite as well, I perhaps would have even replaced these with either Soup Purse or Kitty Midwife which were perhaps the weakest of the scenes.
After watching this DVD a few times and ingesting the sets and opinions I've come to the conclusion that in the scheme of noise/industrial People Who Do Noise will not be remembered as mandatory viewing. However, if you're interested in getting a taste of the Portland scene, and some interesting ideas and opinions on what noise is to certain artists it's a good lil' flick. Definitely worth seeing at least once for any fan of noise in general, but certainly not essential.
| | |
| --- | --- |
| Visuals: | |
| Composition: | |
| Sounds: | |
| Production Quality: | |
| Concept: | |
| Packaging: | |
| Overall Rating: | |