Milwaukee Noise Fest 2013
14 May 2013
xdementia
No Comment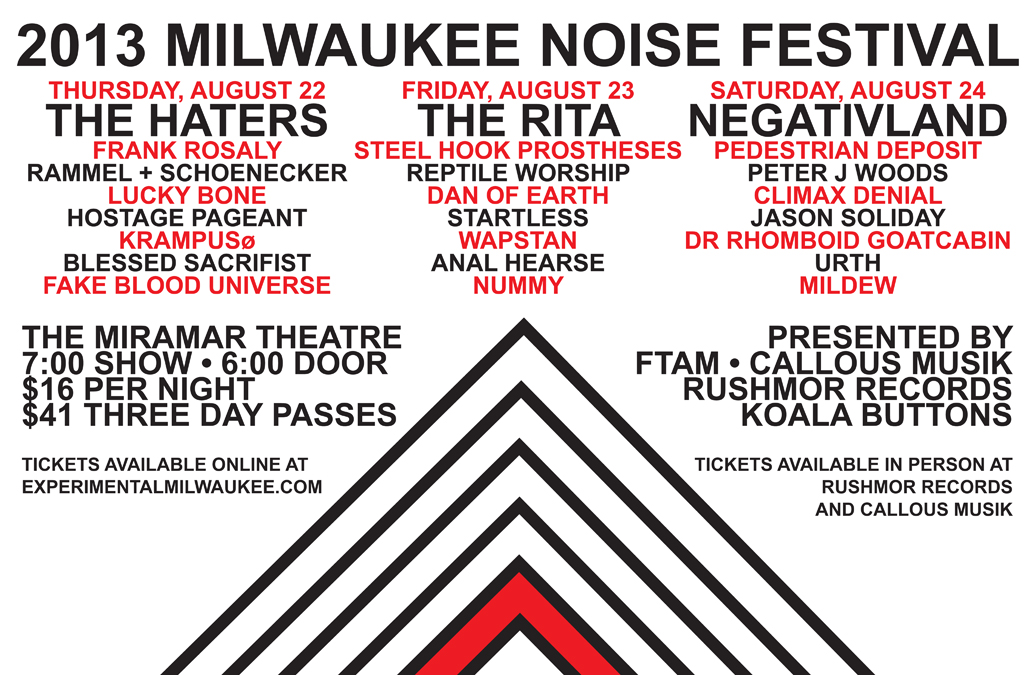 Now in its eighth iteration, the Milwaukee Noise Fest returns with a facelift, promising to be bigger, better and noisier than ever. From August 22nd to the 24th, FTAM productions will fill the Miramar theatre with twenty four of North America's absolute best in controlled (and uncontrolled) dissonance and sound wave hijacking.
While the festival continues to focus on local musicians playing host to twelve of the city's best noise artists, this year will include an expanded roster of international musicians. Creative commons crusaders and plunderphonics masterminds Negativland – best known for taking down the rock establishment U2 in a court of law – will act as this years headliners performing their recent work "Booper Symphony." On the international front, militant wall pioneer The Rita will be flying in from Victoria, BC and lo-fi harsh head Wapstan hails from Montreal. California's The Haters will be bringing 30 years of performance art experience and Chicago's Frank Rosaly brings his free-jazz virtuosity to the stage, performing pieces for percussion and electronics.
When Peter J Woods decided to book the first Milwaukee Noise Festival he had been setting up hardcore/punk/rock shows for about 2 years and had just started getting into noise. He had played a few shows, but kept feeling like the noise stuff he was doing wasn't working out with the other bands he was playing with, so he decided to just get everyone he knew who made noise and put them on one show. They had enough for two days, so he split it in two and called it a festival. Woods had an outlook like "really, I just wanted to play a cool show and see my friends who were doing cool stuff".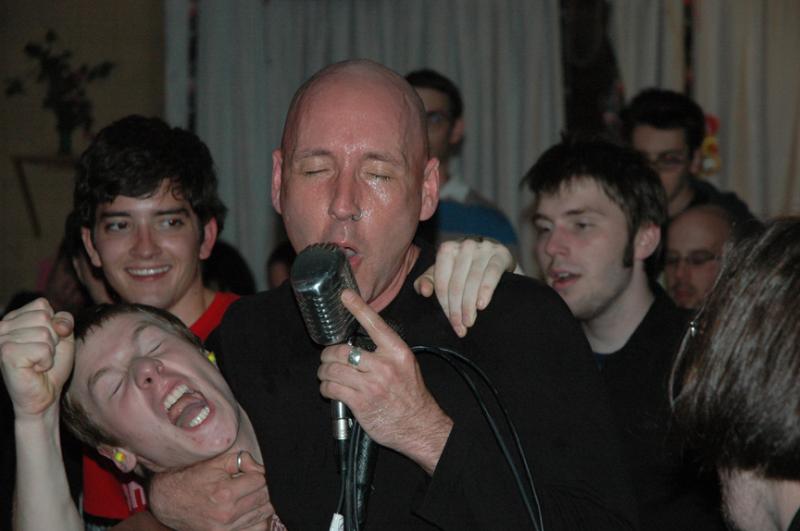 Bloodyminded @ MNF 2007
The first festival went amazingly. A whole fifty people showed up both days, and as that was the capacity for the venue, it sold out. Up until that point, Woods had barely gotten 10 people to show up to anything he was doing, so he figured he might as well do what works. So he decided to keep the festival going as a yearly event.
When approached about the process of curation, Woods explains he first looks for artists that he admires and thinks are doing amazing things. Secondly, he looks for a wide range of artists. There is also an aim for a solid amount of Milwaukee representation each year, as the festival is really to promote noise in the city and a good local scene is the most important thing to have. So Woods comes up with a wish list of everyone he wants to play, then just starts asking. In years past, Woods has strictly enforced a "no repeats" rule for those coming from out of town, but with the festival changing that rule has been abandoned.
Getting to hang out with great artists for three days is a great aspect of the festival, but Woods claims the best is finding new people to welcome into the sordid noise family. So many people he's never seen before come out of curiosity, then get hooked and keep showing up and start performing and then become really awesome noise artists themselves. Woods observes that a lot of the "newer" noise dudes in Milwaukee have followed that path.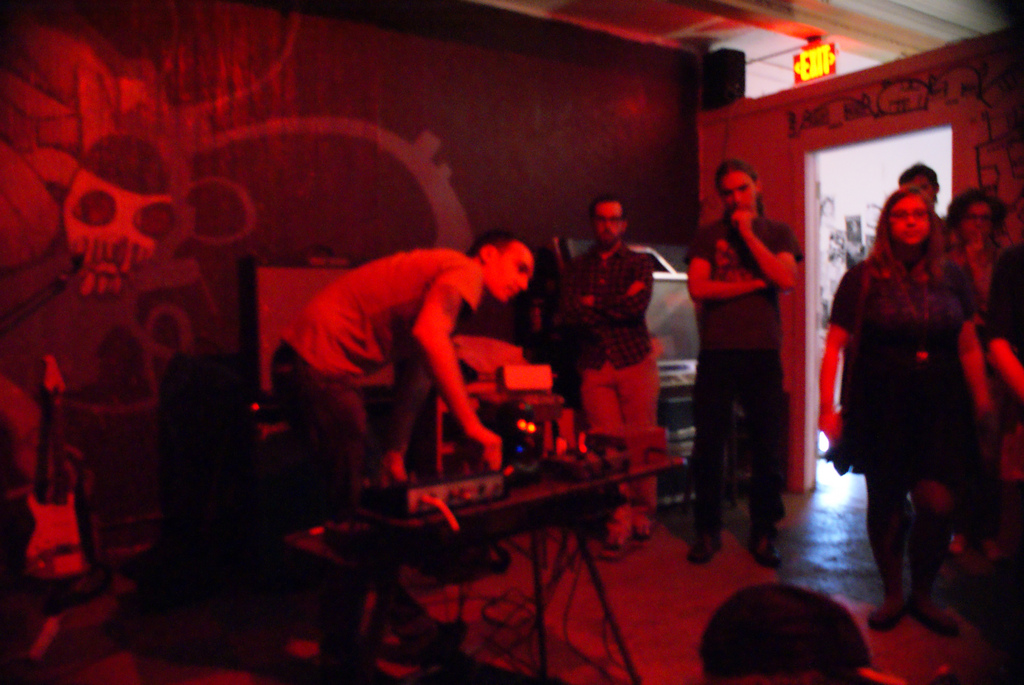 Reptile Worship @ MNF 2009
Woods claims that the most inspiring sets are the ones by local musicians who show up and just blow everyone out of the water after taking their time to develop their sound. A perfect example is Nummy from the 2011 festival. After years of playing around with simpler performance pieces to mixed media, she came in with her frying pan set where she just dropped water into a hot frying pan. Sounds simple enough, but the range of sound she managed to create was awe inspiring. Easily the best performance that Milwaukee experienced that year.
The festival has a tendency to generate a feeling of camaraderie amongst those that make it the whole way through, and that feeling is pushed by an expectation of weird things happening which tends to be fulfilled. Woods enumerates that his favorite crowd moment was to be on the floor pit during the Slow Owls set of 2009: "Just a huge mass of sweaty people rolling around in a pile. Exactly what a noise audience should be."
Yet, organizing such a festival – as low-key as it may be – has it's challenges. People not communicating. So many times Woods has had performers drop problems on him days before the fest starts and there's barely time to recover. Combine that with the marathon of trying to run a 10 act show on time for three nights in a row and Woods – as the curator/organizer – is a massive ball of stress by the time saturday night rolls around every year. He often tells people that running the festival isn't fun, and it really isn't. Its stressful, hard work, but Woods declares its always worth it in the end.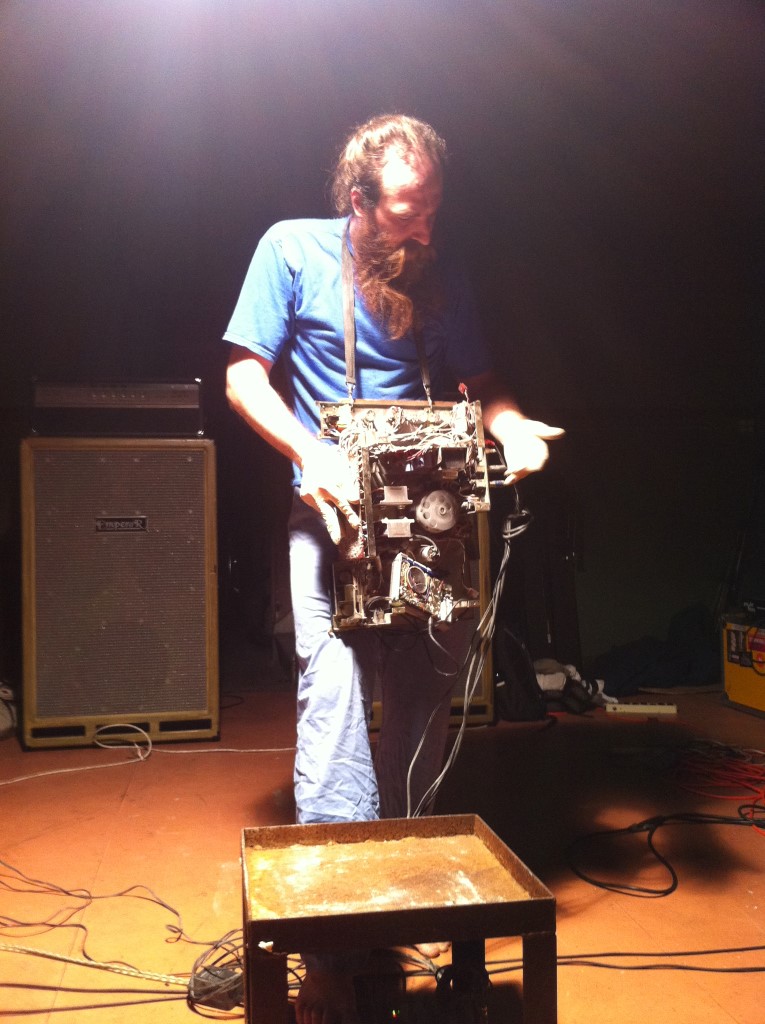 Instinct Control @ MNF 2010
When asked if the city provides support for the festivals all Woods has to say is "Most people ignore us, but we have gotten a really nice amount of press over the past 8 years. The curious come, the oblivious stay home, it works out pretty well."
Although the festival has endured years of excellent success, this year promises to be different. First, the festival is moving to a much larger space. Woods loves the Borg Ward to death and will do shows there for the rest of his and/or its life, but with the acts that are coming in more room was needed. Speaking of acts, they're going all out to bring in some heavy hitters. Negativland, The Haters, The Rita, Pedestrian Deposit, Steel Hook Prosthesis and Frank Rosaly are some of the absolute best active noise acts in the US and having them in Milwaukee all performing in three days is going to be incredible. Also (dis)organized is a pre-show clusterfuck where anyone who is coming in from out of town (or in town that couldn't fit on the fest) are performing at the Borg the Wednesday before and two film screenings will be taking place. So it's going to be way bigger. After what seemed like 7 years of setting up the same fest, the new set up should be a nice change of pace.
This begs the question of how can the festival possibly be evolved in the future? Woods admits that the future is decidedly unknown. He is really putting himself out there financially to make the festival happen, so he is working on making sure the process is sustainable. It depends on how this year goes, he states. "If it goes well, it'll stay on a similar path of bigger venues and bigger artists. If not, it'll probably be the last year." Woods doesn't want to go back to the old format and if the changes don't work out then he'll pack it up. But for now he's staying positive: "I've got a good feeling that this thing will blow everyone – myself included – out of the water." The past 7 years have been incredible and this year should be no different.
Whatever the future holds, one thing can be for certain. Even the most jaded noise fan will appreciate the varied presentation of chaotic, ear splitting feedback, to the controlled ambient drones and hi-tech electronic wizardry, to the found-sound masterworks all of which will be found at the Milwaukee Noise Fest. They strive to expose every corner of the vast array of noise artists working within the musical underground. An incredible experience for newbies, as well as the most experienced avant-garde music lover. Just remember: bring earplugs.
Peter J Woods is a noise artist based out of Milwaukee and is the man formerly known as Raperies (Like Draperies) and now operating as Peter J Woods. He currently books shows at The Borg Ward and is the main entity behind FTAM.