Sujo – Arak 3″CDR
13 May 2010
xdementia
No Comment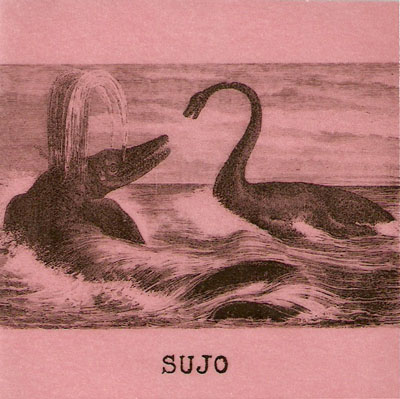 Sujo – Arak 3″CDR
This one knocked me on my ass, but quite softly. Arak is about 20 minutes of pure drone bliss from this group I am not familiar with. Smartly packaged in a little pink slip with something like two fighting prehistoric sea creatures printed on a folded transparency, it has the mark of a quality DIY operation. It's the sounds on the disc though, that really do rise above the expectations set by the outer packaging.
A slow rhythmic dirge quickly kicks in mixed with high pitched wailing drones, noisy, but very slow and musical. Almost like the band Earth got an electronics frontman, and the noise is mixed to the foreground. Arak is perfect because just when the going feels the slightest bit slow, a timely change busts in just like what is can be heard right around the 7 minute mark, where a slow melody begins to develop.
The noise builds ever more slightly until finally everything drops out but a textured drone. Even when things are left "sparse" there's these whipping, undulating textures that move under the surface. The drones sound synth based but they are lush and well treated so as to have more of an organic feel. The remainder of the track ebbs and flows a bit, using harmonic movement as its main evolutional point. There are some creepier melodies that fade in towards the end adding an air of dischord and mystery.
The explanation of the disc really pales in comparison to actually experiencing it. Arak is a flowing drone masterpiece that combines slow, subtle "rock" instruments with excellent droning synth work to form a complex and emotional tapestry of sound. This really makes me want to check out more of Sujo's work.
| | |
| --- | --- |
| Composition: | |
| Sounds: | |
| Production Quality: | |
| Concept: | |
| Packaging: | |
| Overall Rating: | |