Content Nullity – Rotting Walls of Decaying Sound 3″CDR
15 May 2010
xdementia
No Comment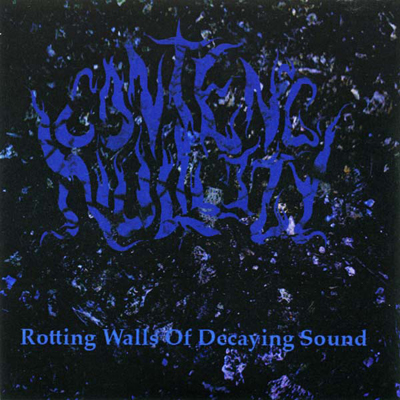 Content Nullity – Rotting Walls of Decaying Sound 3″CDR
Here's a sexy little 3 incher from England's prodigal son Tommuel Reynolds. This is the first full release I have heard from Content Nullity and it is no suprise to me that the sound here is absolutely beautifully layered death industrial noise.
Opening this 5 track disc is the quicky "Mould" immediately foreshadowing a gloomy mood with some subdued harsh noise and spurts of high-pitched feedback. "The Infinite Void" starts off slowly, like a machine just kicking off. Before I know it I'm surrounded by pummels of spilling synths overflowing out of the rusty mouths of reverberated metallic growls.
"Worms in the Wall" rolls in like a juggernaut further building momentum. Continuing with a similar format and style but keeping things new and interesting. This time the metallic clangs and bangs are just a touch more aggressive while the noise, feedback, and synthesized textures are given a bit more room to breathe. One of the commendable things about Content Nullity's sound here is the expert use of high-pitched sounds that couldn't have been acheived without the professional production quality that Rotting Walls of Decaying Sound boasts.
"Burning Bright White Sun" reminds me a bit of old-school Luasa Raelon with it's noisier drone textures but soon breaks down into confused experimental noise breaks. However, that short interlude is only followed by the most accessible of the tracks "Volt Millipede" which features a much more rhythmic electronic beat reminding me of old-school Megaptera or the more rhythmic side of Strom.ec. Luckily this aspect is treated quite tastefully and manages not to rub me the wrong way whatsoever.
Rotting Walls of Decaying Sound is a much more professional sounding release then I expected from this newcomer to the genre. The whole release feels just a bit restrained which leaves me poised for bigger and better things and also shows a larger intent and ability of the artist then what he is perhaps showing us here. Content Nullity certainly breathes new life into the death industrial genre with this release and I won't hesitate to already compare his sound to such successful acts as Sistrenatus, or Cathode Terror Secretion.
| | |
| --- | --- |
| Composition: | |
| Sounds: | |
| Production Quality: | |
| Concept: | |
| Packaging: | |
| Overall Rating: | |