Interview with Ionophore
14 June 2016
offering
No Comment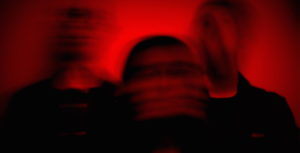 Based in two locations, Ionophore is the product of Leila Abdul-Rauf, Jan Hendrich, and Ryan Honaker. Dark electronics, beats, industrial soundscapes – Ionophore weaves in and out of styles on their second full length album entitled Sinter Pools. The album has been stuck in my rotation for a while as I've been inclined towards something more pleasant but still rewarding to listen to. As such, Sinter Pools is saturated with electronic manipulations and organic instrumentation that are densely packed into an album that is easily one of Malignant Records' more lush and melodic releases (read: great music to immerse yourself in while gardening). Get yourself a copy from Malignant Records
–Could you introduce us to Ionophore as a music entity and how the project started?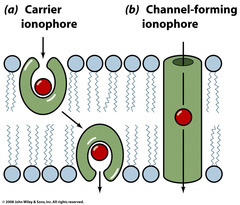 Ryan: Jan and I were playing in another project (Lucre) and wanted to start something else that was noisier/darker/more experimental, but that's about as much as we had thought it through. We met Leila through a bandmate of a friend and asked if she wanted to play with us. We played with her and she was amazing, but she was at the time in roughly a dozen bands or something, so we didn't think we'd convince her to keep playing with us, but luckily for us she did.
Leila: In 2012, we went to a comedy show of a mutual friend, and then all went out together for drinks afterwards. Not having yet met Jan and Ryan, who were among the group and seated nearby, I overhead them talking together about their music (they were playing together in a different band at the time), and joined in on their interesting conversation. My bands all happened to be on hiatus at the time, and I wanted to do something new, with ambient and electronic elements – it seemed like what these two were doing were right up my alley. So we exchanged numbers, got together for a jam, and the rest is history.
Jan: Ionophore came around in a time where we were all sitting around twiddling thumbs. I think we had a single afternoon of messing around in a practice room, and that produced recordings which would go on to be used on about half the tracks of our first album (Through Light Fractures). After the practice I was pretty blown away by how great Leila and Ryan were in this setting, and how these songs were starting to take shape in the 'downtime' between working in other bands and on our own solo work.
–Who are the personnel involved and what do you all do?
Jan: When Ionophore started, I was the Ableton guy holding all the beats and the electronic samples, as well as using an ebow (passed through Ableton) to add some texture/rhythmic melody. Ryan was pretty handy passing his violin or danbau through an array of pedals and software effects to get massive string swells and ghostly sounds. Leila was alternating between making these fantastic vocal melodies and textures using effects/loopers and playing trumpet. On top of that we tended to pass around a guitar and bass depending on who had inspiration or free hands. Since then, I think we maintain those specialisations to some degree, but everyone is equally adept at using Ableton as both a live instrument and a production tool.
Ryan: One of the things that I really enjoy about this project is that everyone has a lot musical breadth to draw on. So no one person is ever just doing one thing. Someone brings an idea, someone else puts on some ambient texture, someone else adds a rhythmic element, etc. But each song has different people filling each of the roles, depending on what the song needs and what they're hearing. As Jan mentioned we each have a few things that we're more specialized in, but the role those elements play also can change between tracks. It's really fun and liberating.
–A lot of the tracks feature beat driven compositions that range from dark ambient to minimal techno. How did you all decide on particular sounds and styles for Sinter Pools?
Leila: I'm not sure if we ever consciously decided on a sound, since most of it seems to just come out of us naturally. But I knew when we got together I wanted to do something electronic, with ambient and neoclassical elements, since we play a few classical instruments. I also wanted to do something with a strong visual component, and so visual projections have been a mainstay of our live performances. Often we come up with sounds spontaneously by playing around with different textures or chopping up various instrument tracks when we're recording on our own or jamming together.
Jan: A lot of the attraction for me is being able to throw something strange into a track, perhaps an odd beat or series of rhythmic noises, and see how the others take and evolve this into something exciting which forms the meat of the track. I also tend to take what has been added to a track, and do the same, whether by stretching/reversing/chopping/retuning what I started with. As this happens over multiple iterations in the songwriting process, it seems to develop into this smear of sounds which can be moulded and shaped into whatever we like, while still retaining an echo of the original sounds. Therefore, I believe that while there is no set 'sound' in terms of what we use as an input, these manipulations impart a certain style on the overall tone of a given track.
Ryan: It was interesting, because we never really sort of set out any sort of stylistic guidelines at all for the project as Leila mentioned. They just sort of settle into a particular place that we like and are exploring. I think it's going to continue to be interesting to see where the next album takes us, as again we're just kind of letting it happen. I think it reflects the musical agreement and trust we have a s a group that we can put together cohesive tracks this way.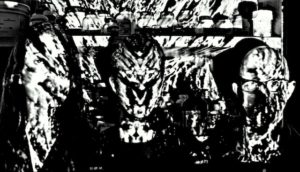 –What technology did you use to construct Sinter Pools?
Ryan: We all use Ableton for our DAW, so it's really convenient to pass songs around between ourselves. The sounds in the tracks themselves are largely real instruments that are then recorded, processed, produced, and effected using software effects. We have a shared DropBox folder that we store all the song files in, and a shared google document in which we keep a version history, notes, and comments. It's in this document and via email that we discuss the songs, what we think they need, and who's going to work on them next. Because of all the technology it should be a smooth transition when we upload our minds to the cloud someday since we're already pretty organized on there.
–What was the songwriting process like since some of you live in different places?
Leila: Most of our work happens at home, on our own, at our computers. One of us will have an idea, post it to a shared folder, which we then pass around, each adding elements and/or reconstructing until we are satisfied with the result. Jan was still living in the bay area when Sinter Pools was being written, so we were getting together to rehearse and perform tracks live for a couple of local shows as well as a Pacific Northwest tour. The live performance environment encouraged us to introduce more improv elements, so that the live versions were quite different from the studio versions – I feel that this process helped us to improve our sound, "let loose" and meld together better as a band, and as songwriters.
Jan: Despite me being far far away, the fact that we can each (for the most part) write any given part on any given song means that things are pretty seamless. We're also not too precious about other band members tinkering with something we wrote, so things tend to stay pretty fluid when writing. The songwriting in Ionophore is very iterative, we don't tend to sit around for three hours discussing how chorus B could go into bridge B and then become solo A, but rather someone just gets on and does it. The ability to open my laptop on the tube, or on holiday, and tinker away on a new track (and check up on what others have done!) is also pretty essential for the sort of composition I enjoy.
–Do you have any live performances planned?
Leila: Not at the moment (as Ionophore), but we hope to perform live again soon. Although Jan is in London, Ryan and I both live in the bay area, and when I have solo shows, Ryan will often accompany me (additionally with Nathan Verrill of Cardinal Wyrm). I've also provided live accompaniment for his other band, Divisor. I have two solo shows planned – one at the end of July in the bay area, and the other on September 10 at Hopscotch Festival in Raleigh, North Carolina, opening for William Basinski.
–What future releases do you have planned?
Leila: We are busy working away at a third album which has greatly progressed over the past two months. We also have a live album from 2013 we hope to release, as well as ideas for re-mixes of a couple of cover tunes.
–What other musical projects do each of you work on and how do they compare with being in Ionophore?
Ryan: my main other project is a noise-hop project called Divisor. We also each have our own solo projects that regularly release albums (and we frequently play on each other's tracks). Leila's is under her name, Jan's is Qepe, and mine is Souls and Cities. Jan and I also have yet another project called Betterthief that should very shortly be releasing its first album.
There's definitely some stylistic overlap with my other projects and Ionophore, but what we come up with and how we do it is pretty unique for me. I think we have a really great musical equality in this project, and Jan and Leila are both incredibly talented throughout the writing process from being multi-instrumentalists to production. This really allows a lot of trust and freedom which I think results in enhanced musical synergy.
Leila: In addition to the various collaborations I have with Jan and Ryan, I play in three very different kinds of metal bands – Vastum (death), Cardinal Wyrm (doom) and Hammers of Misfortune (progressive). Each has its own set of rules and processes that are very different than Ionophore's. Live rehearsal is crucial for writing or prepping for a show, and can be challenging to coordinate. Often there are one or two people "in charge", or who get to call the shots, which can create tension in a way that doesn't happen in Ionophore, where we're all in frequent contact, equally invested and empowered to make band decisions, which in my experience, is an extremely rare thing for a band. Even though my metal bands receive more PR and thus are able to reach more fans, it costs a ridiculous amount of money to record a metal band since we always have to hire an engineer to do so. Ionophore is fortunate to not have to bear this kind of expense to make records, ones that sound, to me, of equal or better quality than other records I've been a part of where outside help is brought in.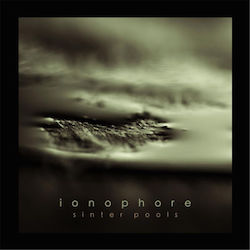 —
Catch Leila Abdul-Rauf's solo project in San Francisco on July 31 2016, at Artists' Television Access. FB event