Best Albums of 2018
28 December 2018
xdementia
No Comment
1. V/A – Amplified Humans Festival 2xDVD [ New Forces / Skeleton Dust Recordings ]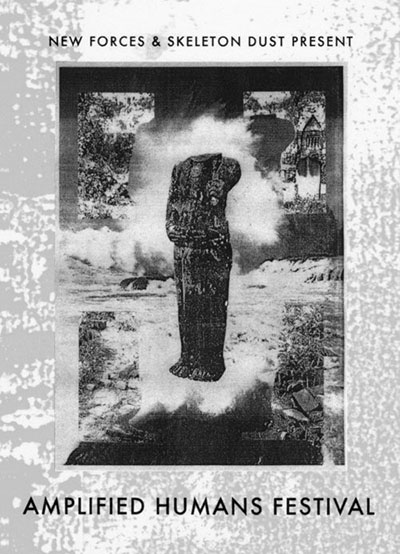 FILE UNDER: HARSH NOISE / EXPERIMENTAL / INDUSTRIAL NOISE
I am old, and so this is how I prefer to experience festivals now. Fuck having to buy a plane ticket, travel all the way to a distant city only to spend countless hours holed up in a dingy club. Now I can appreciate the festival sights and sounds, energy and vibes all in the comfort of my living room. This DVD has really incredible quality featuring mixing board recordings of all the sets. I don't care as much about the visual quality – much of the video is grainy but noticeable is that most of the sets have multiple camera angles which are switched to in the editing. There are so many amazing sets here as expected like Aaron Dilloway, Kazumoto Endo, T.E.F. but there are also a ton of other excellent sets like that of Facialmess, Deterge and more.
2. Reutoff feat. Deutsch Nepal – Eating the Dust CD [ Self Released ]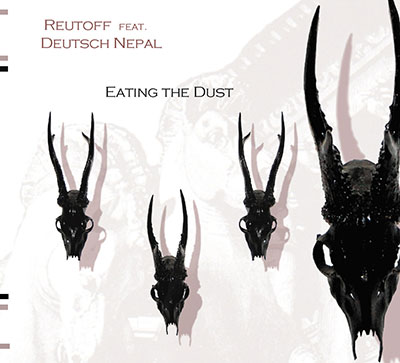 FILE UNDER: POST INDUSTRIAL / ELECTRONIC
Incredible collaborative album of electronic post-industrial. Relaxed and deep rhythms collide with Lina Baby Doll's haunting vocals to make for a head-nodding experience through dark passageways.
3. Lille Roger – Undead 1984-87 6xLP [ Cold Meat Industry ]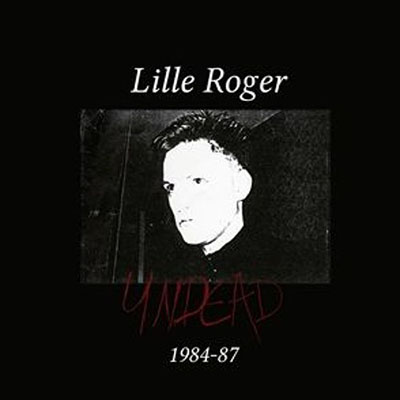 FILE UNDER: DEATH INDUSTRIAL / POWER ELECTRONICS
The old is new again with this harrowing collection of death industrial staples from the 80s. If you aren't familiar with Roger Karmanik he is the man behind the infamous project Brighter Death Now. Yet Lille Roger was his project before the realization of BDN and it's clear that this material is a precursor of what is to come. Yet these songs have much more a "punk" structure although the style is in lo-fi industrial moods there are some guitar and bass riffs here and there adding a subtle post-punk flavor to a few of tracks. The term "angst pop" is even dropped as a descriptor of the material within but I think it's a bit off the mark. This is not accessible music by any means. But to those who can swallow the style, it's quite the delight!
4. Spiritual Front – Amour Braque (Luxus) CD/LP [ Prophecy Productions ]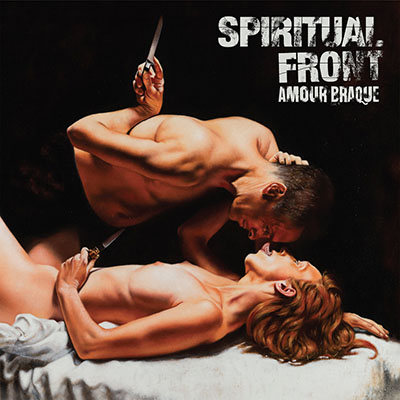 FILE UNDER: GOTHIC ROCK / NEOFOLK / MELODRAMATIC POP
I'll start by saying Spiritual Front is certainly not for everybody. They are an Italian band mixing neofolk, goth rock, country, and melodromatic pop music. Yet I found myself listening to this album over and over again this year and finally submitted to it's memorable moments and catchy tales of love, lust, and loss. Although the album does drift into circus territory maybe more than I would like at times the bonus tracks that come with the luxus version more than make up for that with minimal interpretations of some of the hits from the album and it's almost like a separate EP that is very effective.
5. Rome – Hall of Thatch CD/LP [ Trisol ]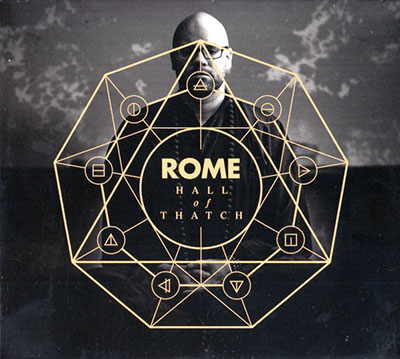 FILE UNDER: NEO FOLK / GOTHIC FOLK
I saw Rome fans complaining online that they are starting to sound too much like modern-day Swans but I, for one, and totally ok with that! Although this album perhaps isn't as experimental and varied as other albums what it lacks in complexity it makes up for in straightforward driving anthems of struggle. Beautifully embracing the projects neofolk roots, yet forging forward with a more polished sound Rome really hits it home with this one.
6. Soaplands – s/t C16 [ No Rent Records ]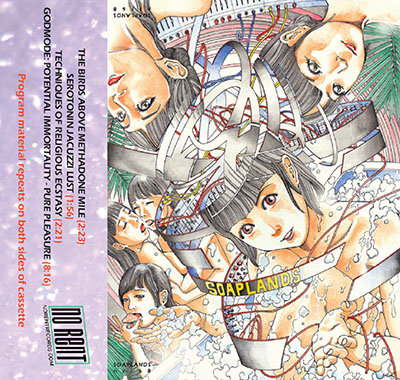 FILE UNDER: PSYCHEDELIC POWER ELECTRONICS
Arguably this release is much too short but it is just so damn unique, emotional and haunting that it made the proper list. Psychedelic power electronics is what we have here delivered by these Boston boys. Seething synthesizers converging in harmonic washes of devastation ebb and flow into droning fields of psychedelia. An utterly unique sound which is very impressive.
7. To End It All – Scourge of Woman LP [ Scry Recordings ]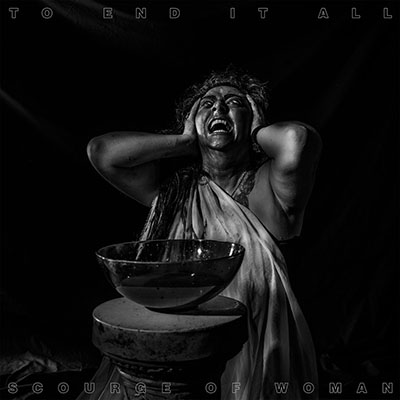 FILE UNDER: DEATH INDUSTRIAL / POWER ELECTRONICS
To End It All is a Seattle duo who creates densely designed monolithic structures of darkened death industrial. Extremely detailed and soaked with creative sound design while draped with haunting operatic female vocal performances. The LP is a culmination of almost 2 years of work with some of the material previously being released on cassette but it is their most complete work to date conceptually speaking. This is some of the most innovative heavy and dark industrial being made today.
8. Herz Juhning – Samsara CD [ Galakthorro ]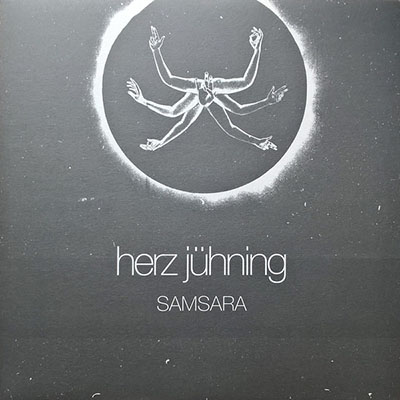 FILE UNDER: INDUSTRIAL
As Haus Arafna continues to drift into more angst pop territory Herz Juhning continues to work in more aggressive and droning styles. Don't get me wrong, there are some dancefloor hits on this one but as an album it's varied contributions make for an excellent journey through the darkest corners of the mind.
9. Low – Double Negative CD/LP [ Sub Pop ]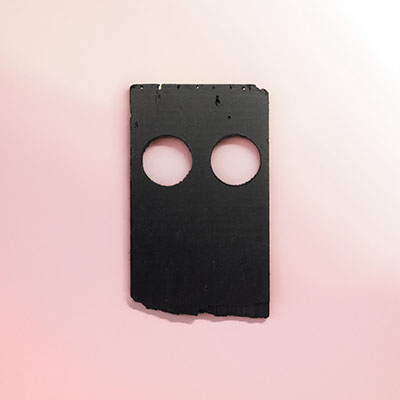 FILE UNDER: EXPERIMENTAL / ELECTRONIC / AMBIENT / INDIE
I used to listen to low back in the 00's but I haven't revisited the band for quite some time. I can't remember what piqued my interest in Double Negative but I was beholden to the over-compressed washes of digital distortion at first listen. Double Negative is to Low as Kid A was to Radiohead, except Low climbs much further out on the branch here into much more dangerous territory. Well it paid off. Imagine an indie rock album completely eviscerated to it's most extreme yet basic elements and you have this album.
10. Atrium Carceri & Herbst9 – Ur Djupan Dal 2xLP [ CryoChamber ]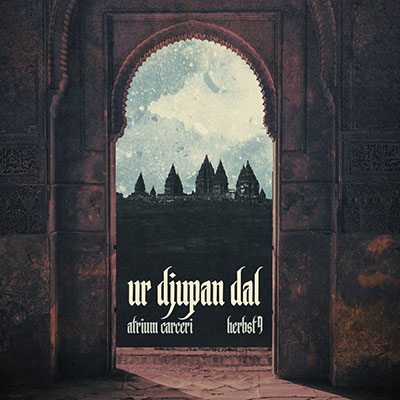 FILE UNDER: DARK AMBIENT / NEW AGE
It's fewer and far between when I am really impressed with a dark ambient album but upon hearing this early in 2018 I knew it was going to a staple for the year. Beautifully layered synthesizers and spoken samples are composed into a soothing and dark soundscape that pays homage to Lustmord and Robert Rich's "Stalker" album. Dark ambient in the way I like to hear it.
HONORABLE MENTIONS:
I'm going to cheat a bit this year because there was just too much damn good music that was released. It's really hard to pick only 10, especially in a year like this so the hell with it, I'm listing all the albums that really blew me away this year here:
Dave Phillips – Ritual Protest Music [ Urbsounds Collective ]
Sumac – Love in Shadow LP [ Thrill Jockey ]
Emma Ruth Rundle – On Dark Horses LP [ Sargent House ]
King Dude – Music to Make War To LP [ Van ]
Henrik Nordvargr Bjorkk – Metempsychosis CD [ Cyclic Law ]
Hide – Castration Anxiety LP [ Dias Records ]
Puce Mary – Drought DIGITAL [ PAN ]
Grunt – Castrate the Illusionist LP [ Freak Animal ]
Isenordal – Spectral Embrace C40 [ Self Released ]
Santogold – I Don't Want: The Goldfire Sessions DIGITAL [ Downtown ]
Inade – The Nine Colours of the Threshold CD [ Loki Foundation ]
Daughters – You Won't Get What You Want 2xLP [ Ipecac Recordings ]
Striations – Vietnamization C60 [ New Forces ]
Marathon – s/t C60 [ Divergent Series ]
TOP 10 LIVE PERFORMANCES:
Scott Kelly @ Slim's Last Chance Saloon
Boy Harsher @ The Biltmore Cabaret
Mass Marriage @ Vancouver Noise Fest VIII
Batushka @ Highline
Regosphere @ Black Lodge
Sistrenatus @ Lot 8
Hacavitz @ Convenant Festival
Bacillus @ Vancouver Noise Fest
To End It All & Vanessa Skantze @ Teatro de la Psychomachia
Pathogens @ Sub Station